:: UPDATE ::
after our adventure, this list absolutely has some modifications to it. if you're going on an adventure and want updated tips, feel free to reach out to us directly.
what' s your backpacking asia travel list and gear? this is the #1 question we're asked – especially me.
packing for this trip has been time consuming, mentally exhausting and expensive. to get started, we read a lot of blogs and asked for advice from other travelers. certain words were repetitive: durable, quick drying, versatile, layers & less is more. we got all kinds of random little tips like a sink stopper (laundry), packing cubes to maximize space and keep our bags organized (i'm obsessed), silk cocoons for sticky sleeping situations & to keep the bugs away, and that carabiners, zip locks & rubber bands come in super handy.
we were also reminded to avoid stressing and to pack comfortably because it doesn't matter that much. you can buy something there if you really need it. i'm glad we've traveled enough to realize this is true. so instead of a purely granola "backpacking" ensemble, (as much as it pained danny at times) i made sure to pack smart but "teri comfortable" – aka realistic + super cute.
side note: i'd always laugh when talking to colby, because i could tell she pictured me in head-to-toe khaki with zip-off pants, army green Tevas, growing dreads and wearing my backpack at all times. when she came to visit and saw my supplies, she (and jenny) were pleasantly surprised.
if you're looking at doing this, a couple of tips:
1. start early. make lists. buy different things to test out what you like.
2. amazon prime was our lifesaver. we were constantly buying and returning things.
3. create an amazon wish list. great way to stay organized & share with family who want to help.
4. do a series of "test packs" – sounds crazy, but it's really helpful and eases stress at the end.
—-
it all started with selecting our backpack. we both went with the Osprey Farpoint 55 & here's why:
: great reviews from other travelers (love online shopping reviews & blogs)
: opens like a suitcase vs. top-loading. this was my #1 must have. i refused to deal with a top-loader.
: carry-on size but all straps can be tucked & zipped for necessary check-in
: we really wanted the flexibility of carrying on vs. checking
: no wheels. wheels require a frame which gets heavy & bulky
at first glance, i wanted to go larger, but everyone strongly urged against this. and now that my pack is full, i'm glad. the 30.7 pounds feels plenty heavy!
alright, now the promised look into my/our packing.
teri's clothing
packing cube
eagle creek packing cubes (buy here)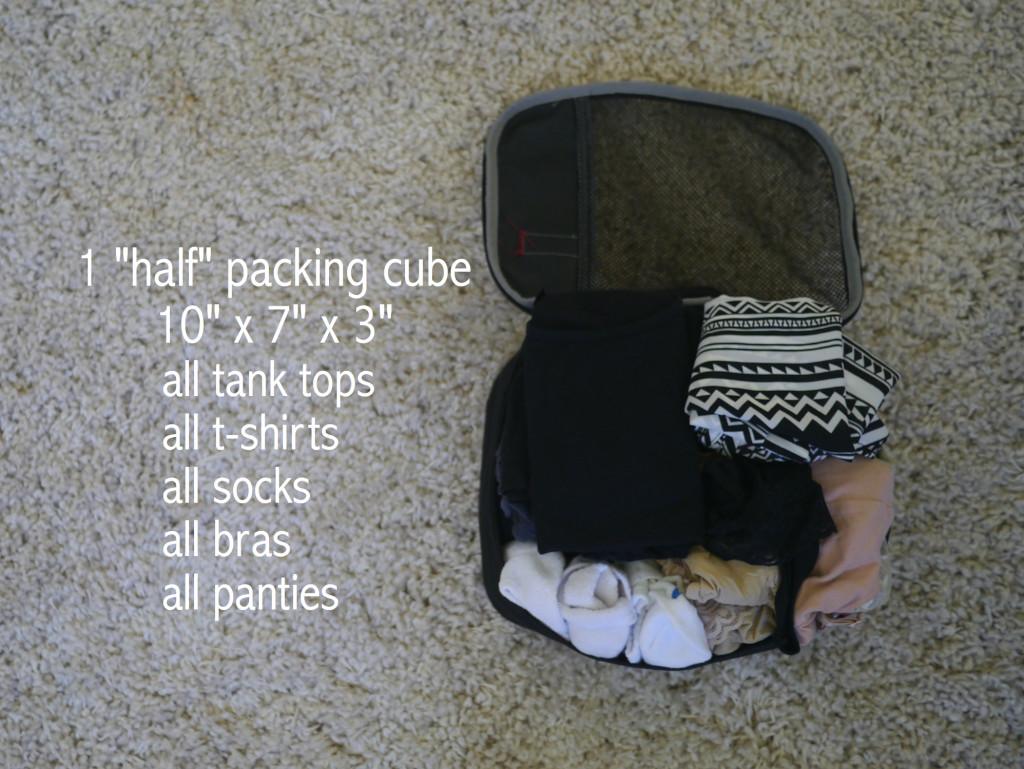 clothing swaddle
eagle creek pack-it folder 18 (buy here)

teri's accessories 
teri's necessities
sea to summit in secret shield coomax adaptor liner / silk cocoon (buy here)
personal quick dry  towel, size XL (buy here)
osprey farpoint pack rain cover (buy here)
swimsuits
shoes
lisa! don't judge me. i know i have too many, but i can't pick!
shared item: entertainment
i think the roll-up backgammon board may be one of my fave items. by Sondergut, found it here.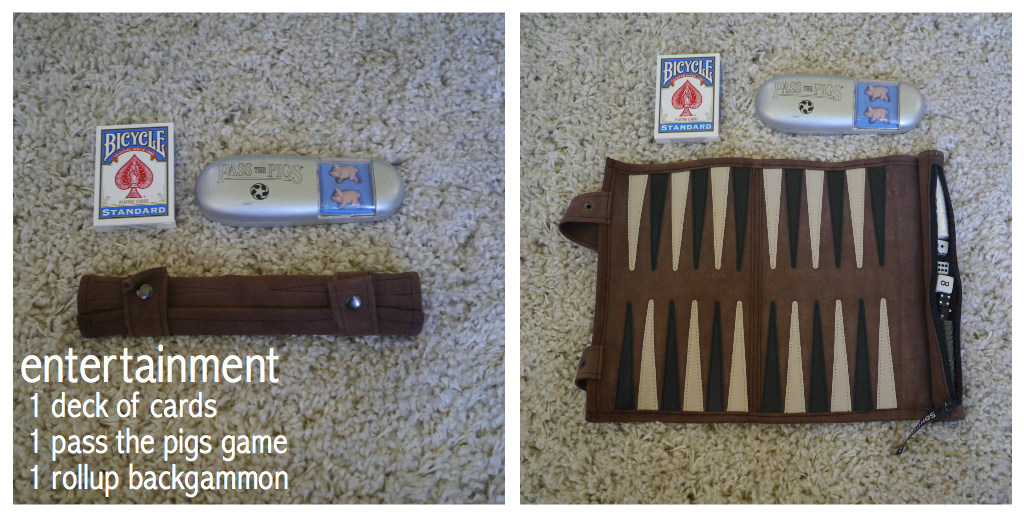 shared: health & medical
eagle creek "half packing tube" (buy here)
steriPEN adventurer (buy here)
shared: electronics 
shared items: toiletrees     

without a doubt, this list will probably drastically change while we're actually on the road. some things will be a total waste, while others will be lifesavers. only time and miles on the road will tell. f you have questions about any specific products, just ask! happy to share.