danny and i are pretty bad tourists. the "top 10 things to do in bangkok" are probably not where you'll find us spending much time. of course we check those things out and dabble in the must-see stuff, but we're happiest when we explore cities by pretending that we're locals. and thanks to the duration of this trip, there isn't a ton of pressure to cram each day chock-full of tours and sights, so we're trying to do the things we'd normally do and explore that way. 

take yesterday for example (one of my favorite days yet). we were craving a long sunday brunch, so we headed to Thonglor (a really great part of town) where we got cozy at an amazing restaurant called Roast.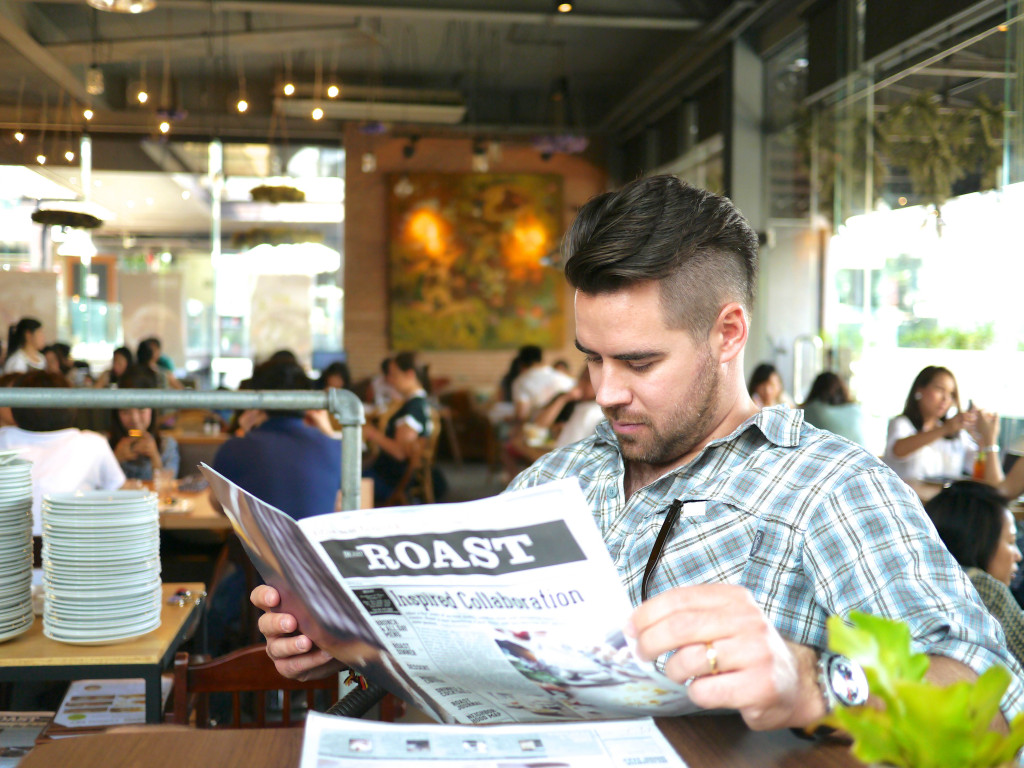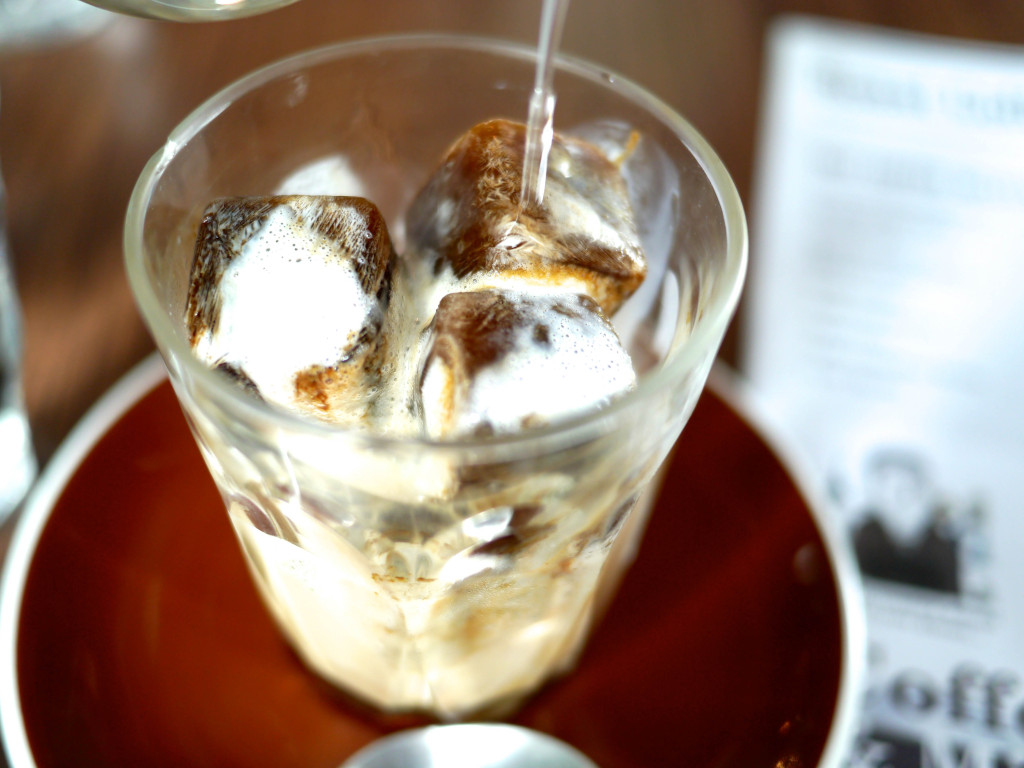 this delicious treat is a coffee that uses milk, liquid sugar and espresso ice cubes that slowly melt so your coffee gets stronger as you drink it.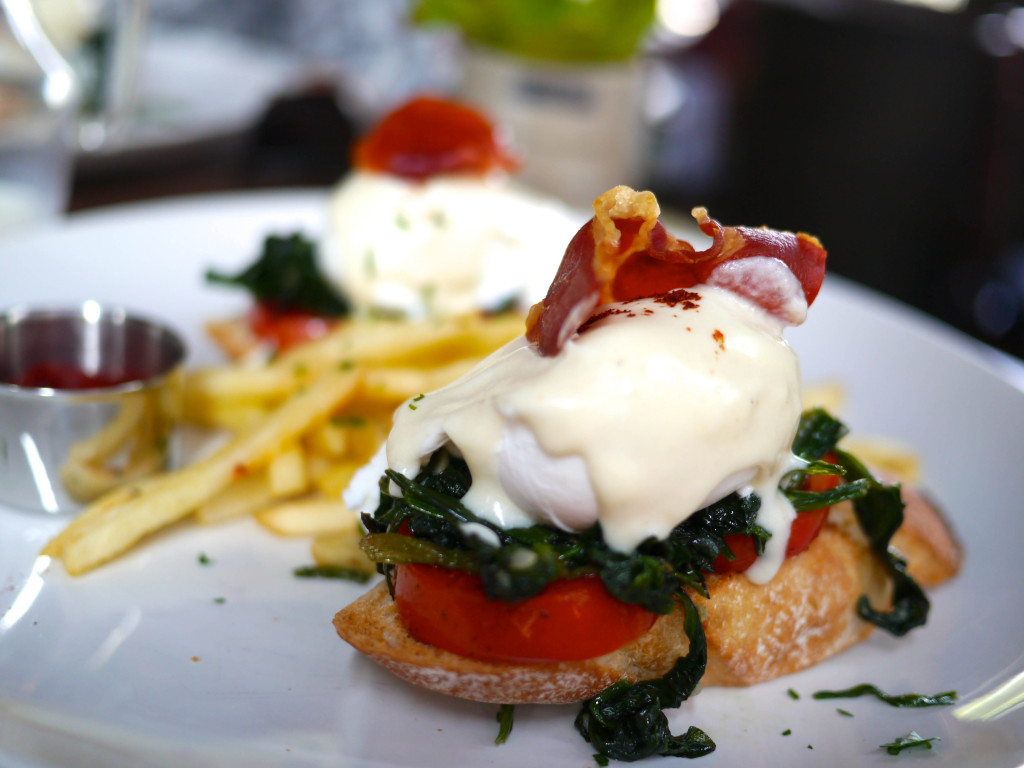 french fries with eggs florentine? don't mind if i do.
after brunch, we walked to explore the streets of Thonglor and wound up in all kinds of furniture and home interior stores where danny went crazy for the designs.  

without an agenda, we took the BTS to see what Lumpini Park was all about and we absolutely fell in love. similar to central park, it's located in the heart of bangkok and is huge, gorgeous and bustling with activity. 
based on a tip from someone we met, we grabbed at seat to watch a game of sepaktakraw and were amazed at the athleticism of these guys. it's like volleyball played with a plastic ball that's controlled like a hackey sack. these guys were doing roundhouse kicks on the concrete like nobody's business – video to come.  
oh, and did i mention the giant water lizards called "Monitors" that cruise the water's edge of Lumpini Park? 
as we kept walking, we realized the Bangkok Symphony Orchestra was setting up for its first "concert in the park" of the year, so we rented paddle boats and cruised around during dusk while we waited for the show to start.



these paddle boaters were prepared with bread to feed the turtles and fish in the water, so i made danny awkwardly float by them so we could get a peek.
since we weren't prepared with a picnic for the concert, we took note of the most popular street vendor lines and ended up with a variety of steamed buns, meatballs on a stick dipped in sweet chili sauce and blue fizz drink to enjoy during the show.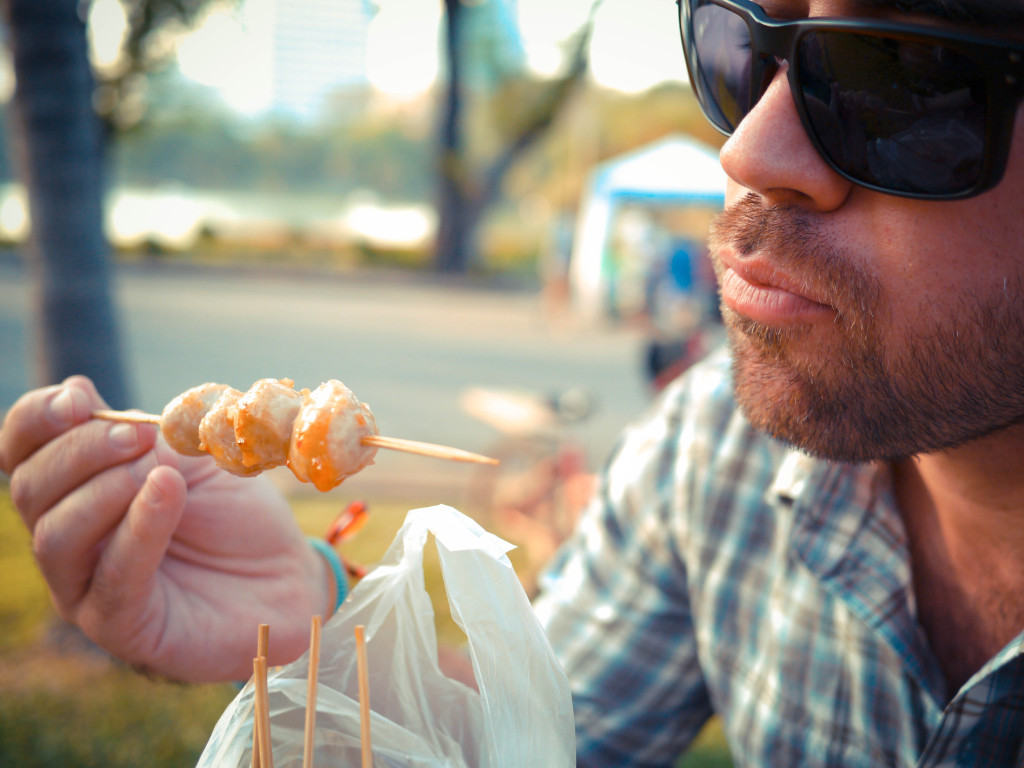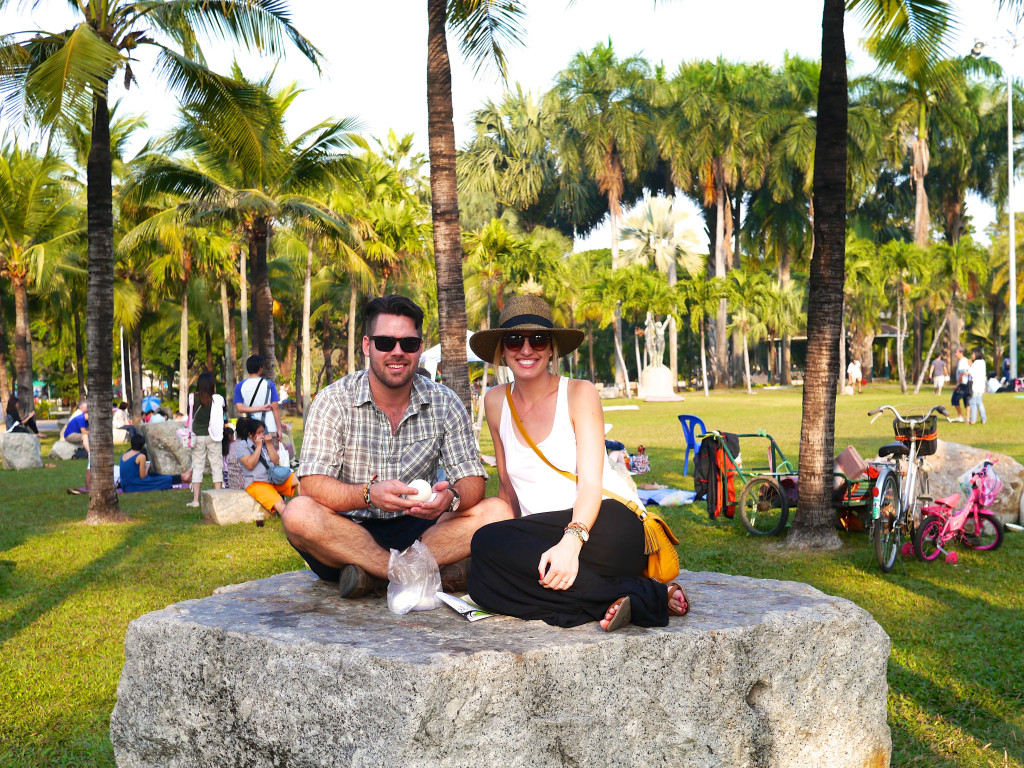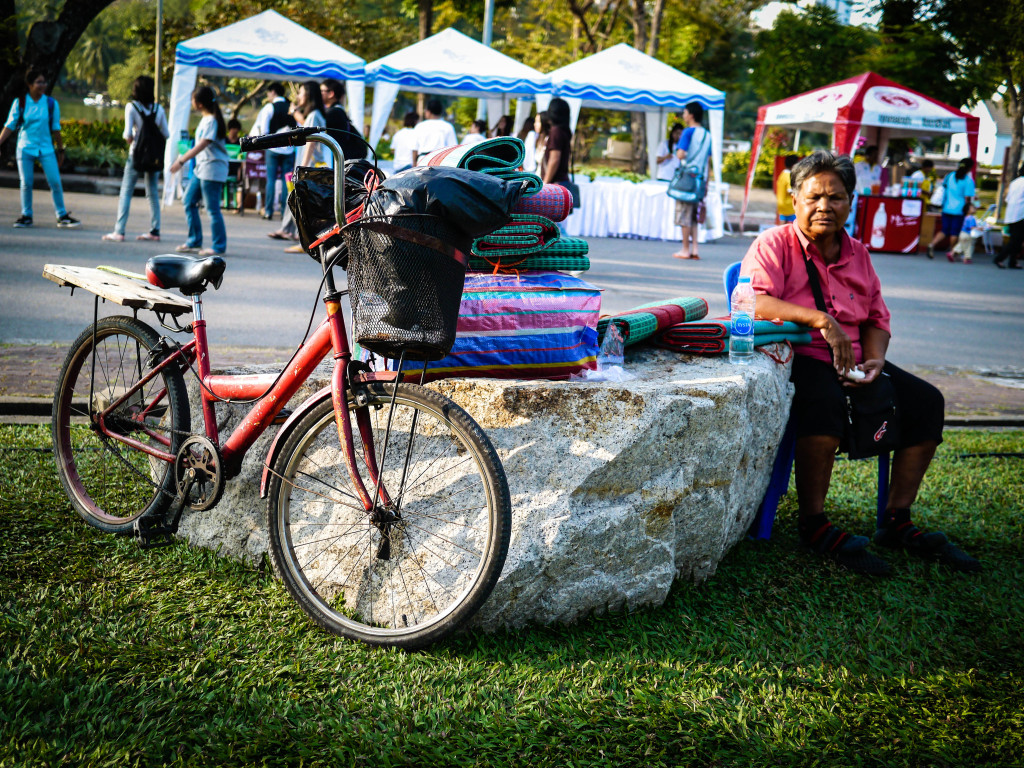 the most popular lady at the concert – selling the picnic mats you sit on. every single person gets them.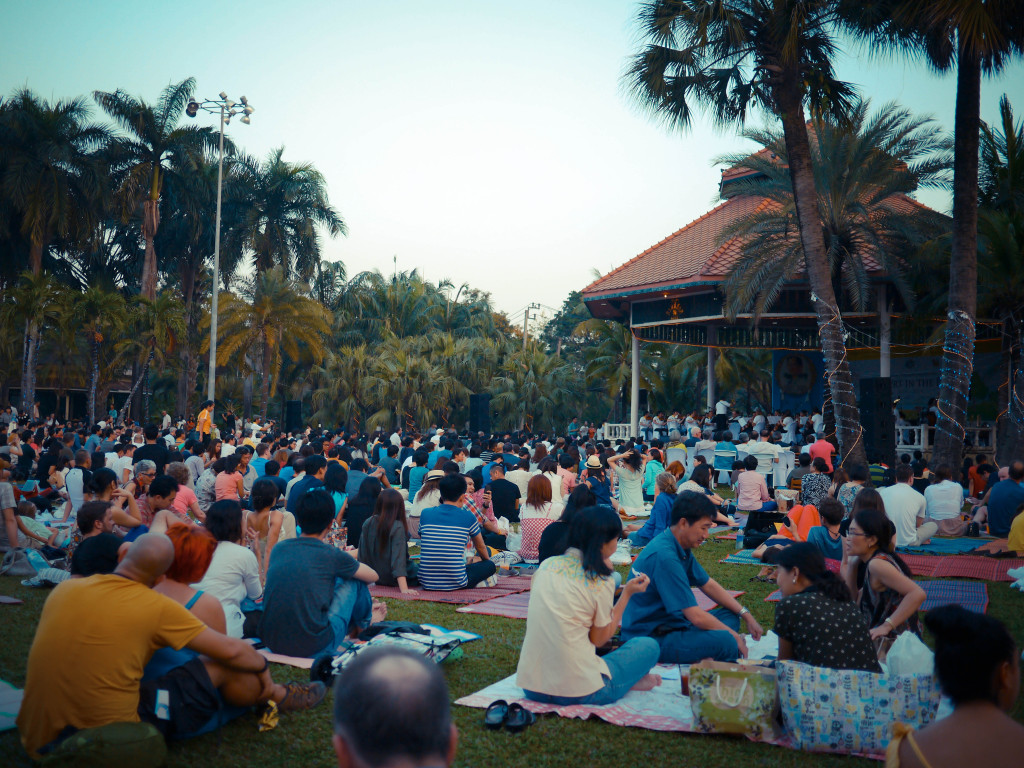 everyone picnicking in the park & enjoying the beautiful evening weather. 

feeling right at home at our first outdoor concert in thailand!

after we'd had enough of the show (as beautiful as the thai renditions of michael buble & celine dion are), we were walking back through the park and stumbled upon a GIANT outdoor aerobics class! hundreds of people working up a sweat to sweet asian pop music. we stopped and watched for 10-minutes! it really made my day.
and to close out the great day, we went to a delicious sushi restaurant "ISAO" where we had a mind-blowing "tuna sandwich" sushi creation. 
oh, that's sophie smiling until i bit her face off.