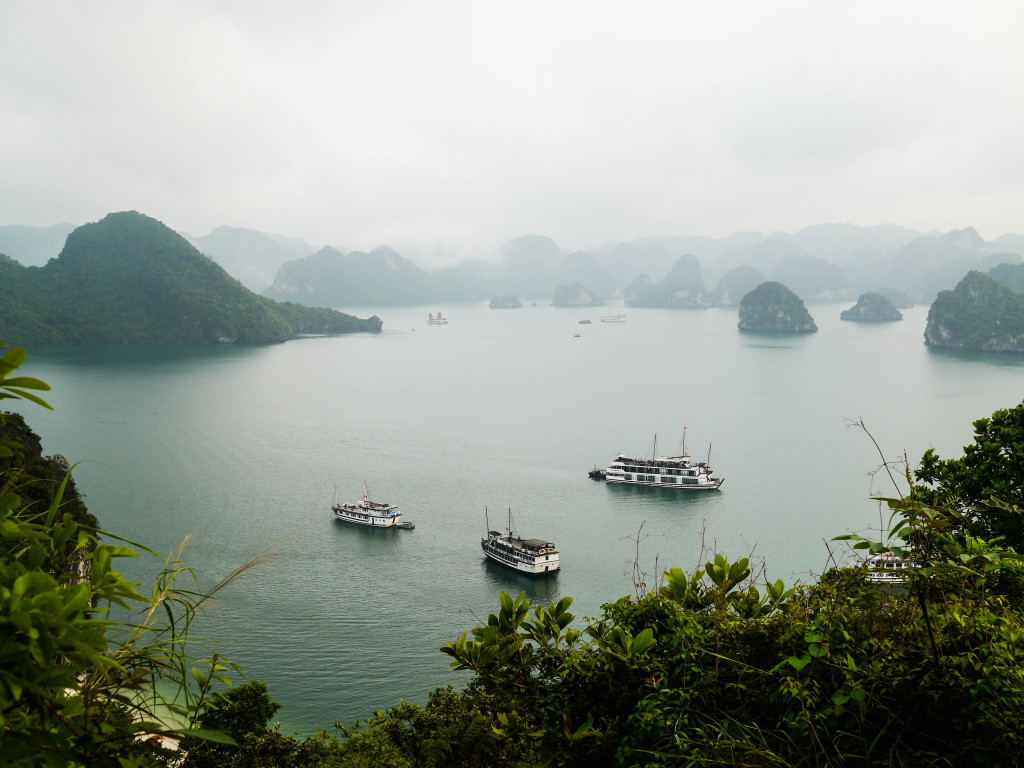 once you start researching a trip to southeast asia, images of halong bay become your go-to daydream place. it did for me. google it and you'll see why it's always on the "top trips in asia" and "places to see before you die" lists.

we finally made it…. danny gave the experience a 5/10. i'm right there with him.
—
there are a variety of ways to experience halong bay with the most popular being short cruises on "junk boats" (Chinese ships). so throughout our trip, we've made it a point to ask everyone how they did halong bay to pick up pointers. the majority of people said that 2 days/1 night is way too quick, and recommended at least the 3 day/2 nights. luckily, we'd met a danish couple in laos who loved their cruise – Galaxy Premium – and we'd kept the name handy which allowed us to avoid doing days worth of research – there are hundreds of cruise companies.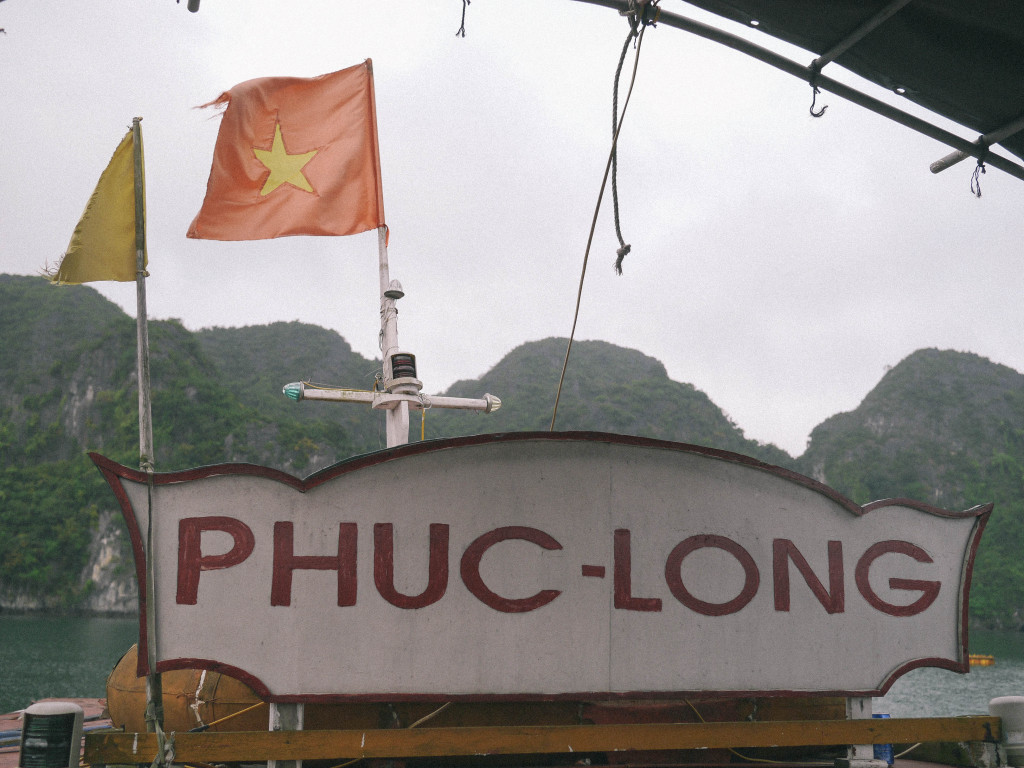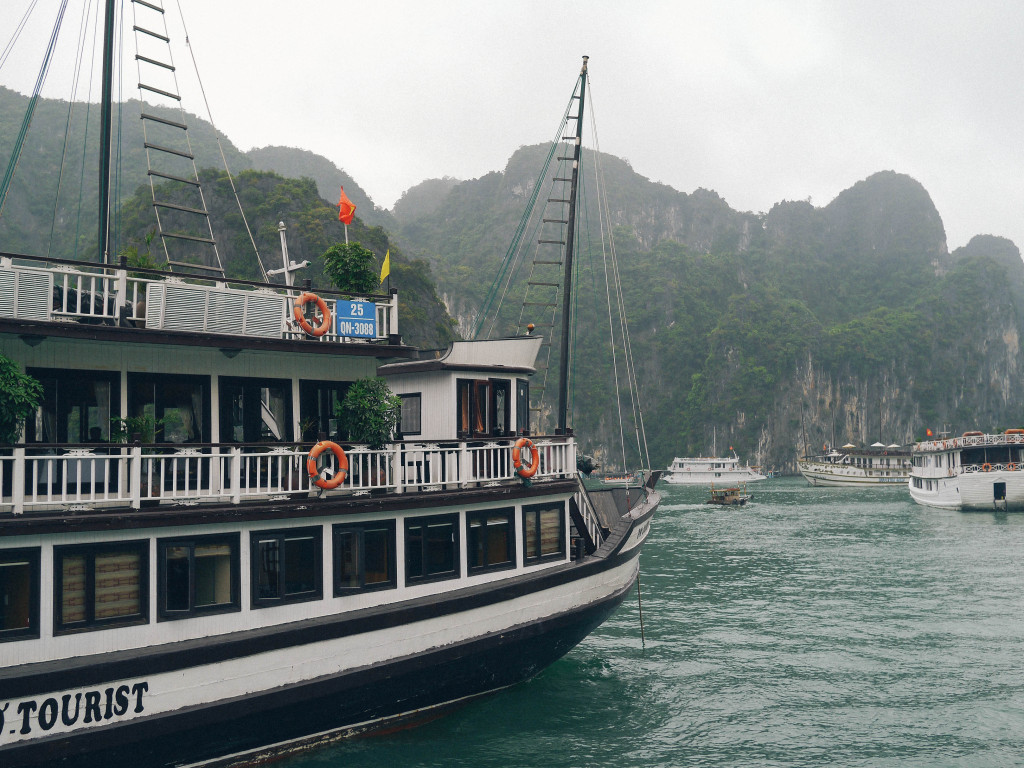 —
the 5/10 rating. i'm quite certain it was a combination of factors that had us just saying, "eh" to our experience. first of all, weather. we've been zig-zagging all over asia to make sure we're hitting spots during prime times because we know that weather can make or break any vacation. well, despite march thru june supposedly being the "best time to visit halong bay," we didn't see the sun once. the entire 3 days/2 nights were misty & foggy so visibility was pretty poor. to be honest, this bummed us out at first but after we started cruising, we realized that swimming wasn't appealing anyways. want to know halong bay's dirty little secret? the water and beaches are littered with garbage. it's sad. it's infuriating. it's pretty gross.
a german girl on our cruise said, "you'd have to expect that with all the boats and tourists that come through here." i started laughing. hawaii… carribean… europe… australia… lakes… the list could go on – i've never once seen tons of bags, bottles, shoes, garbage and debris floating around the swimming area and up onto shore. considering it's a UNESCO site and supposedly one of the "new 7 natural wonders of the world," it's pretty shocking that there isn't more care to clean it up.


so that was all definitely part of it. the other parts? we're spoiled. plain and simple. having been on the road for almost four months now, we feel like we've seen some of the prettiest places asia has to offer. thailand's beach landscapes were also sprinkled with limestone and marble mountains poking up from the sea – sans the garbage or the thousands of tourists. there's definitely a "circuit" in halong bay and every tourist is doing the exact same things: same cave, same hike, same beach. it's all kinda a joke after you've explored deserted islands on your own. it's not fair to compare, but it's hard not to. perhaps if vietnam would have been our first stop, we would have felt the same way about arriving in thailand. we'll never know, but the wow factor just wasn't there for us.
and lastly, the cruise schedule was borderline militant. every minute was accounted which left very little time for relaxing… at the most we'd have 15-minute increments for "free time" before someone would be knocking on our cabin door to shuttle us to the next spot — with the rest of the 10,000 tourists that were on halong bay. its perfect for people that need a "check list" and schedule, but if that's not your thing it's a little crazy.

the benefit of the 3 day / 2 night cruise is that on the 2nd day, you get taken to a more remote area of the bay to kayak in peace. this was definitely the best part of the trip.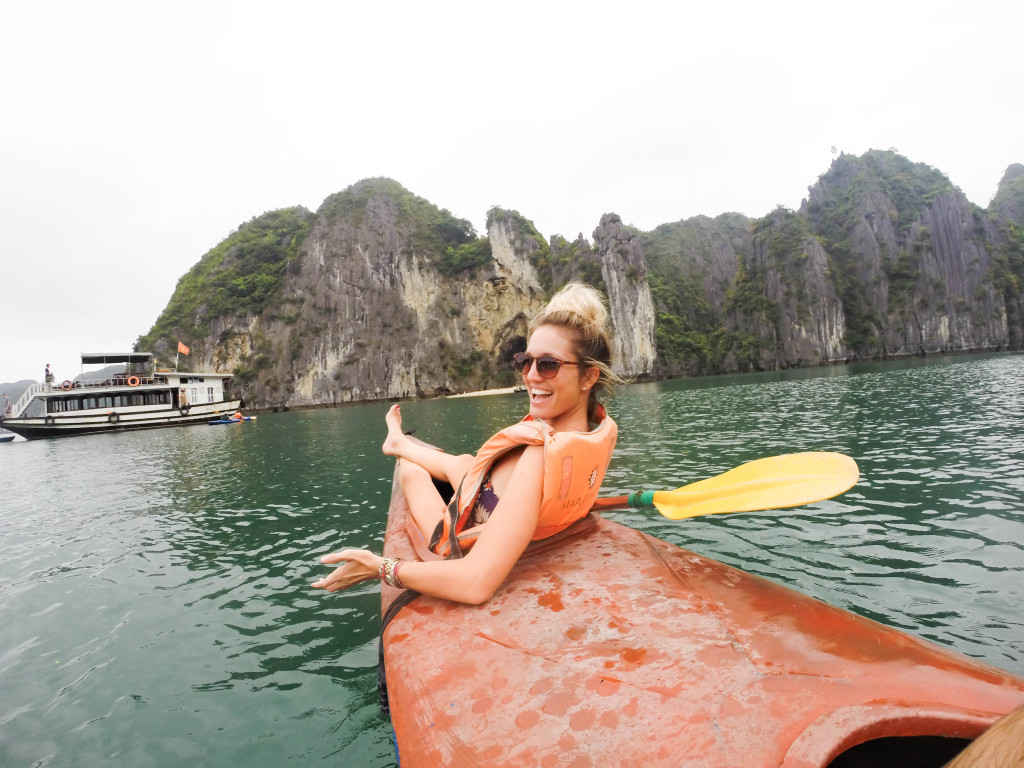 me just kicked back and along for the ride. 

still pretty through the misty fog. i can imagine the views would be stunning on a clear day.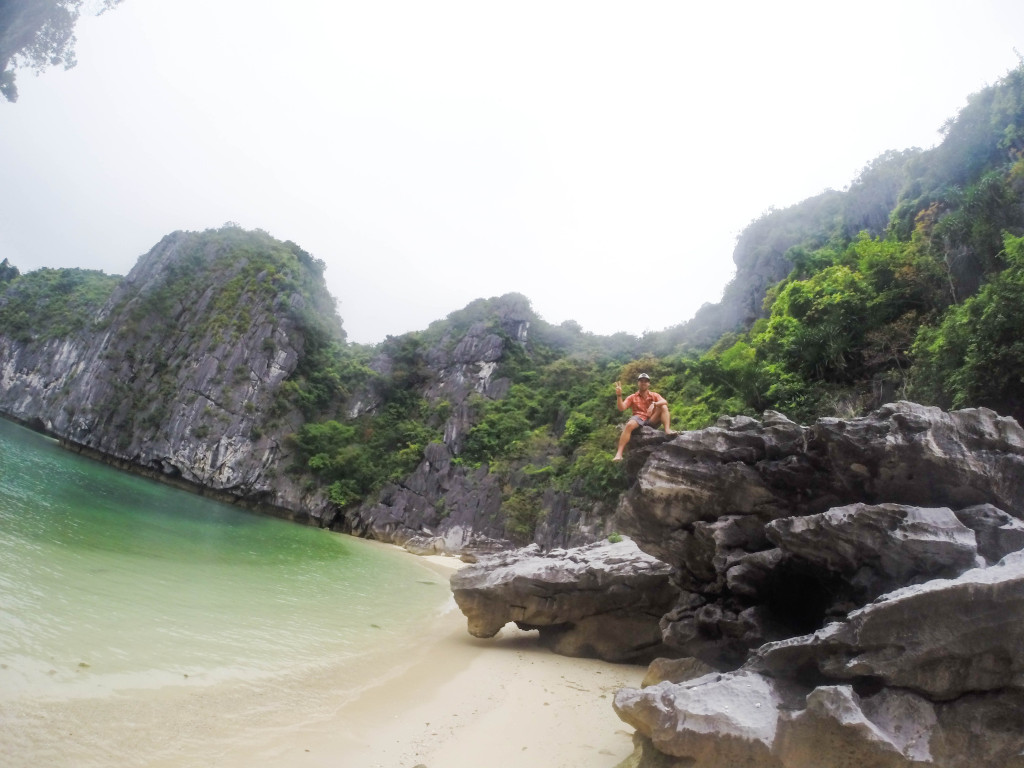 one of the beaches we stopped at… for 12 minutes. i'm not joking.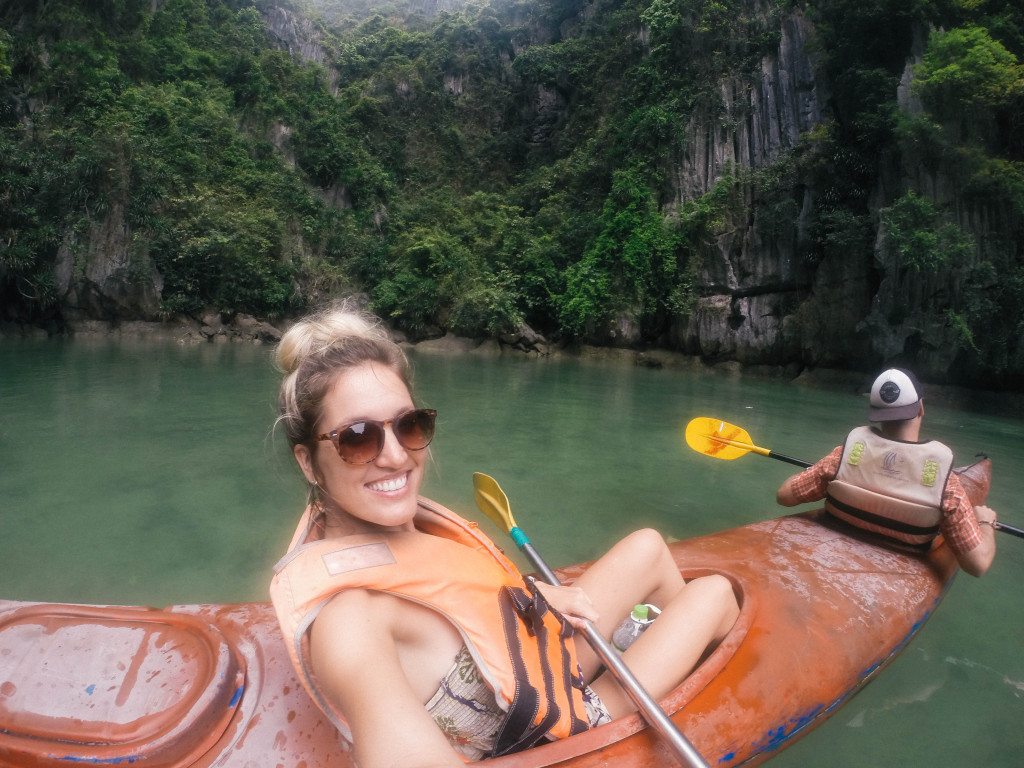 we kayaked through caves.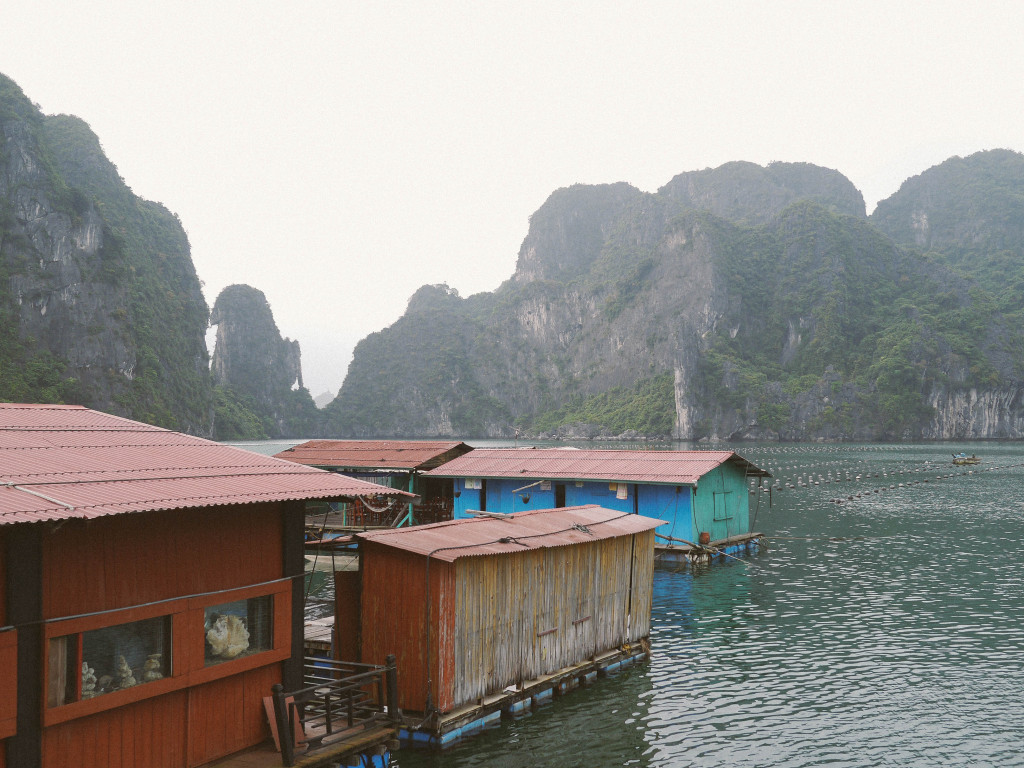 there are a couple floating villages in halong bay where about 1,000 live. like for real. and when you watch a mom hold her bare-bottomed baby over the edge to just crap directly into the water, you lose your urge to swim.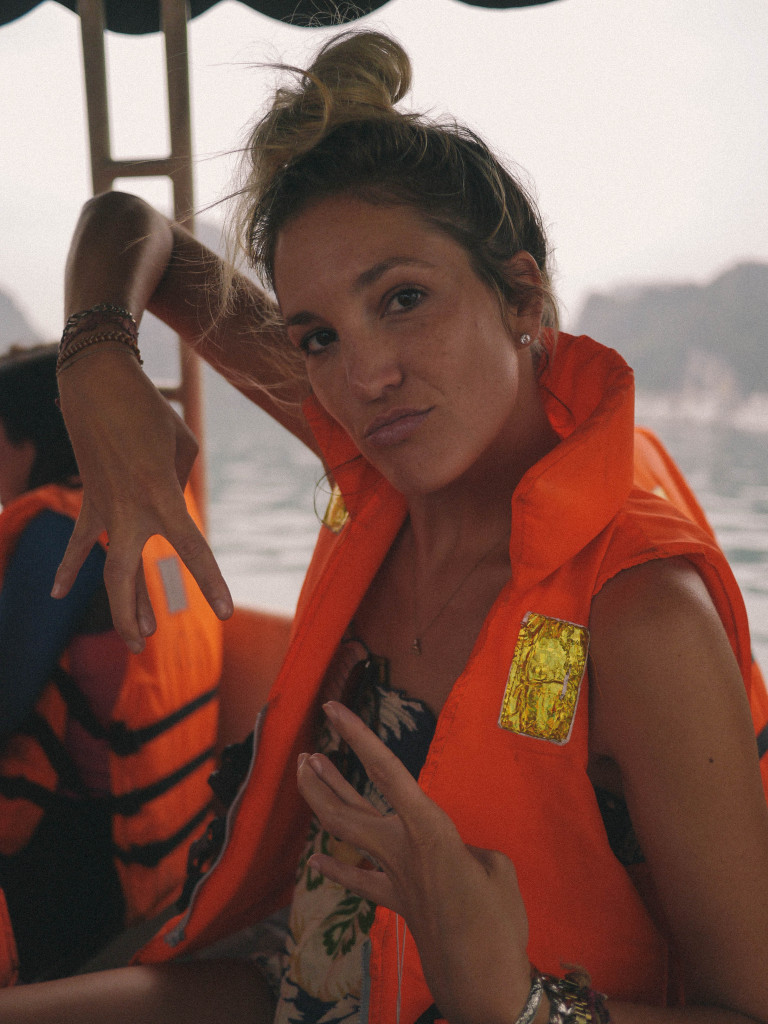 we had to wear life vests on the transfer boats. this was all gold & shiny – gangster vest.

"the hike" to a view point. basically a small walk up a hill with about 1,000 other people.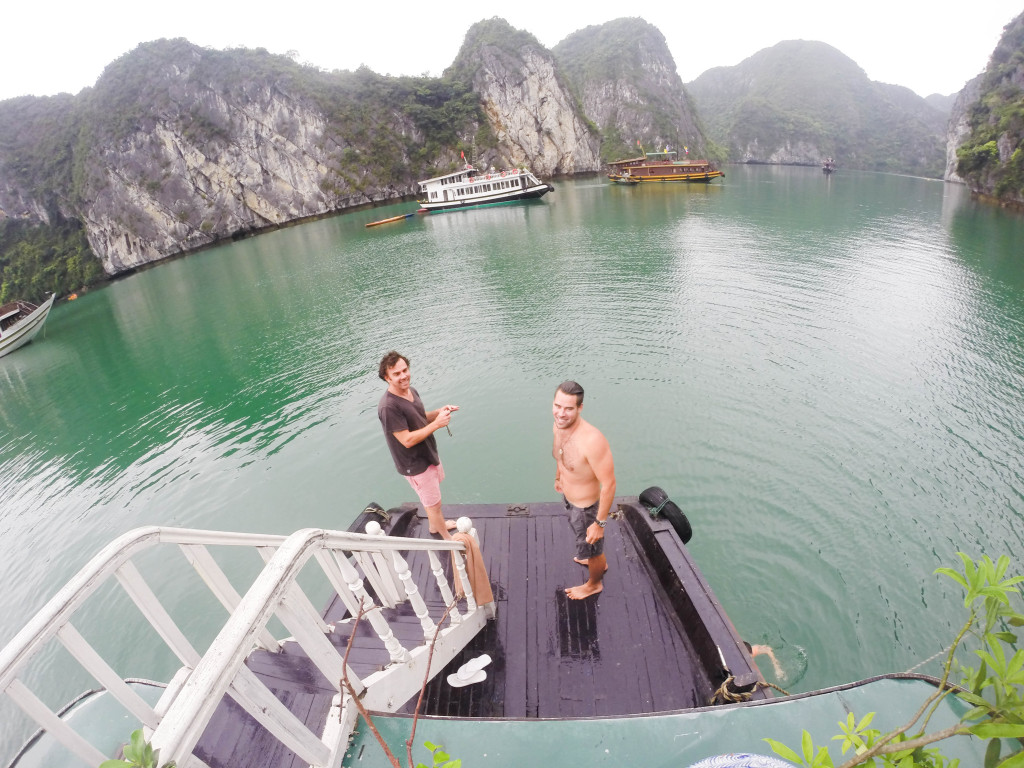 we scored with our cruise friends. tons of awesome couples on the boat… danish, australian, canadia.. heaps of fun with the others. and everyone pretty much felt the same way about the experience.


oh, so this is THE beach they drop you off at. a second after this photo was snapped, one of the dogs took a giant shit right in the sand. yup, that's about right.


me "relaxing at the beach" for 12 minutes.

some more of our cruise friends: jane & jessica.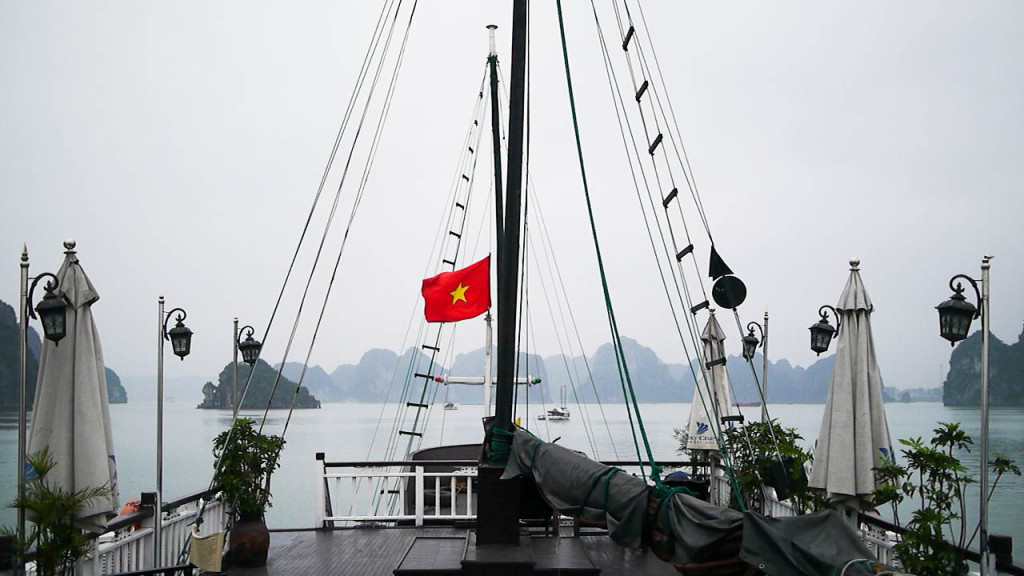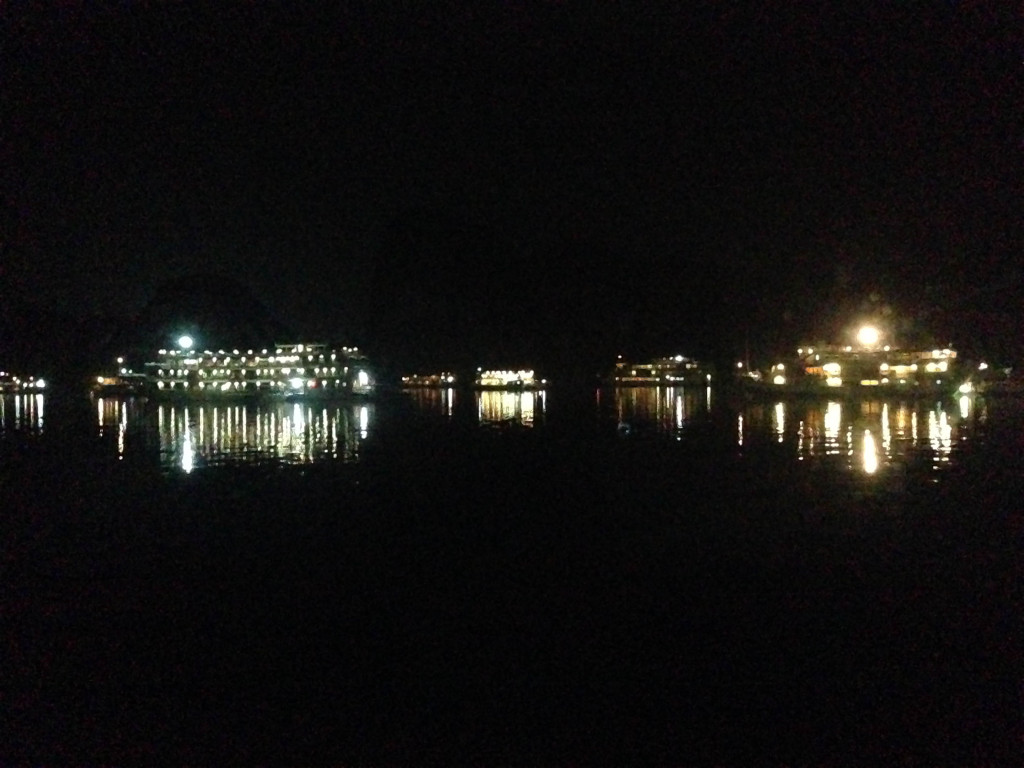 the view from our cabin room at night looked like we were in a floating city.
—-
if you're reading this and going to halong bay, perhaps your experience will be different.
we totally recognize the many variable factors that shape any experience.
we do recommend Galaxy Premium as a great value cruise options  ($250/person base fare for 3 days/2 nights).
the cabins were nice, the food was tasty and the staff was helpful.
it's a nice mid-range option (not backpacker, not 5-star luxury).