besides being romantic, historic and situated on both a river and a the ocean, hoi an (more here) is known for custom tailoring. there are over 600 tailors in hoi an. every street is lined with storefronts promoting their patterns and latest fashion. after having such a great experience in ho chi minh city, danny decided to have some more custom shirts made and i jumped on the bandwagon for another go, as well.
we went two routes:
a) following a random vendor into "the market" to get a next-day shirt done for $15
b) researching a tailor and paying $20 per men's dress shirt
in the spirit of "you get what you pay for" option b was much better, but it's hard to complain about a $15 custom made anything
OPTION A
danny walking to the market with the street solicitor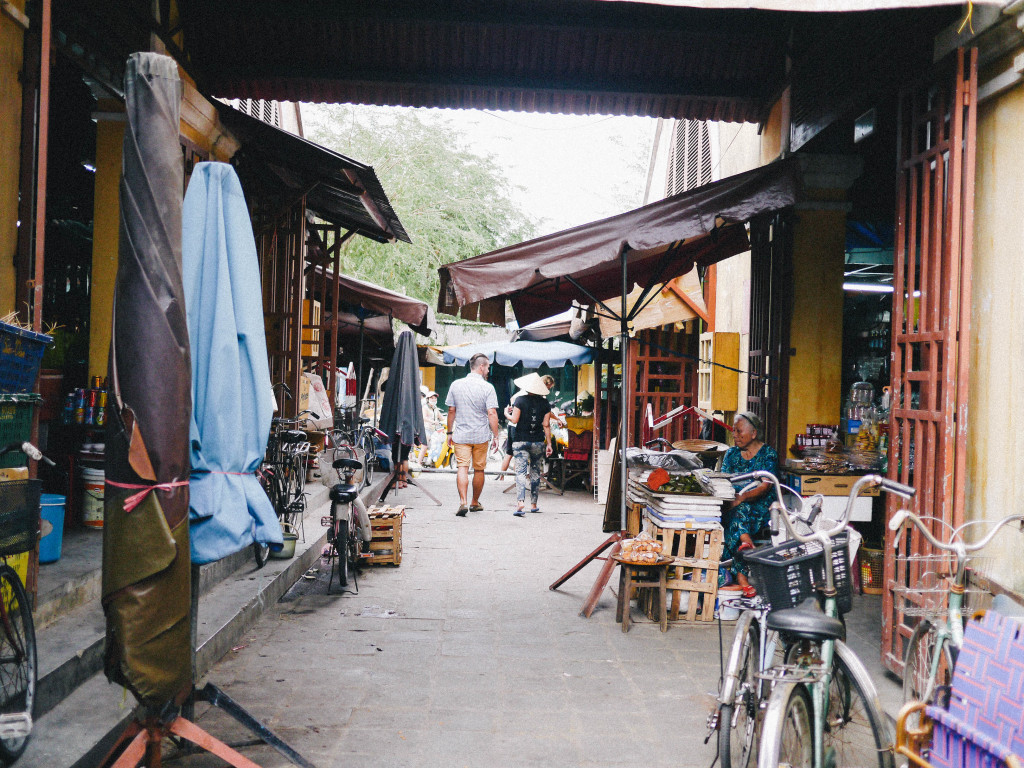 "the market" is hundreds of these numbered stalls with people and fabric everywhere.


for you, pete! 
OPTION B: FORGET ME NOT TAILOR
D found this shop recommended online and we're so glad he did. Run by two sisters, Forget Me Not was such a fun experience (read this article for an interesting back story). After just three days, we felt like we knew the sisters and loved popping by the shop for fittings, to make new orders and pick up our goods. If you're in Hoi An and want great quality, family service with a smile, nice choices in fabrics and great pricing, definitely go to Forget Me Not.  
the sisters loved danny and thought he was so handsome. one day we popped by for a fitting on the way to the beach so danny was scruffy. the next day, he had his hair combed and they were fawning all over him and tell him, "today – you look more better like this. much more handsome today." ha!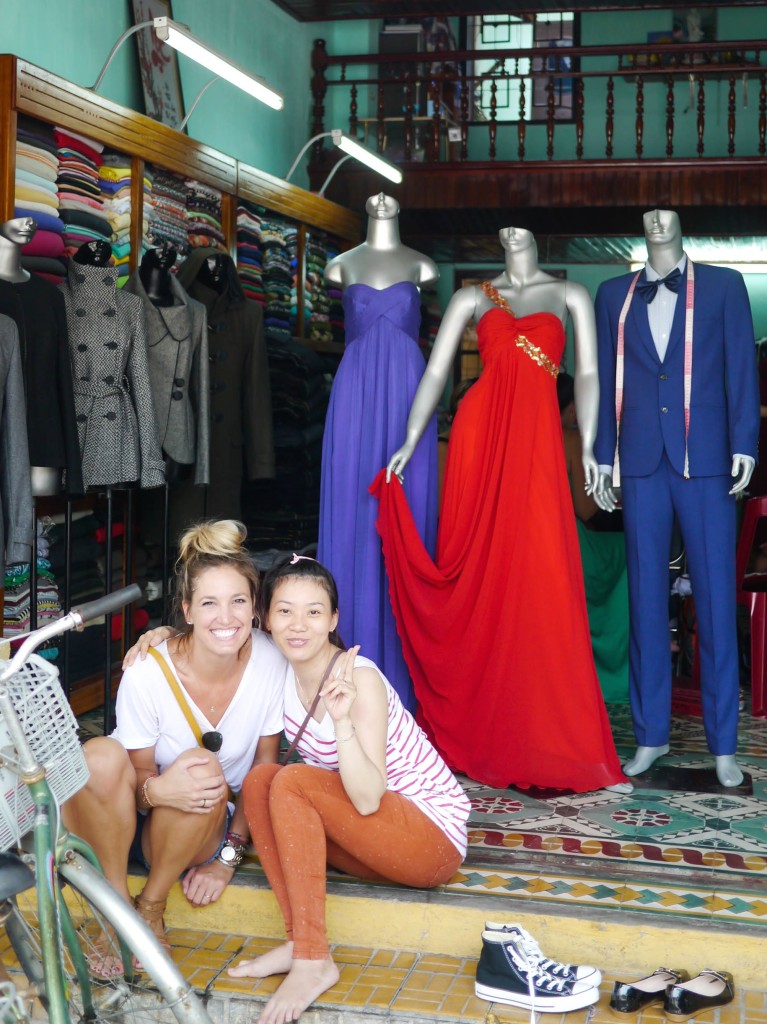 danny got four dress shirts and i got one dress made by these lovely ladies. 
—-
i got super overwhelmed by the process. the choices are endless. they all claim to be able to do "anything you want – just bring a picture." should i go for a pant suit? romper? dress? shorts? perfect slouchy t-shirts? i was all over shopbop, free people and other websites saving tons of things to my iPhone, but then chickened out at the end and would up doing a "copy" of another dress i really like and had with me. after the pants debacle, i was nervous that if i tried to go super custom, it wouldn't be great. and choosing fabric is harder than you'd think! what type of fabric for this style? print or solid? does it need a liner? buttons or zipper? the entire time we were in hoi an i told danny that it'd be such a fun destination trip for a girl's shopping trip. who's in?
in addition to all the custom clothes, there are custom shoes, sandals, handbags and then gorgeous authentic textiles, artwork and ceramics that are incredible. we decided it was the perfect place to do a big push on final purchases, souvenirs and gifts and then to ship one last box home (we've already shipped 2 boxes home since carrying things around in the backpacks isn't realistic – or possible).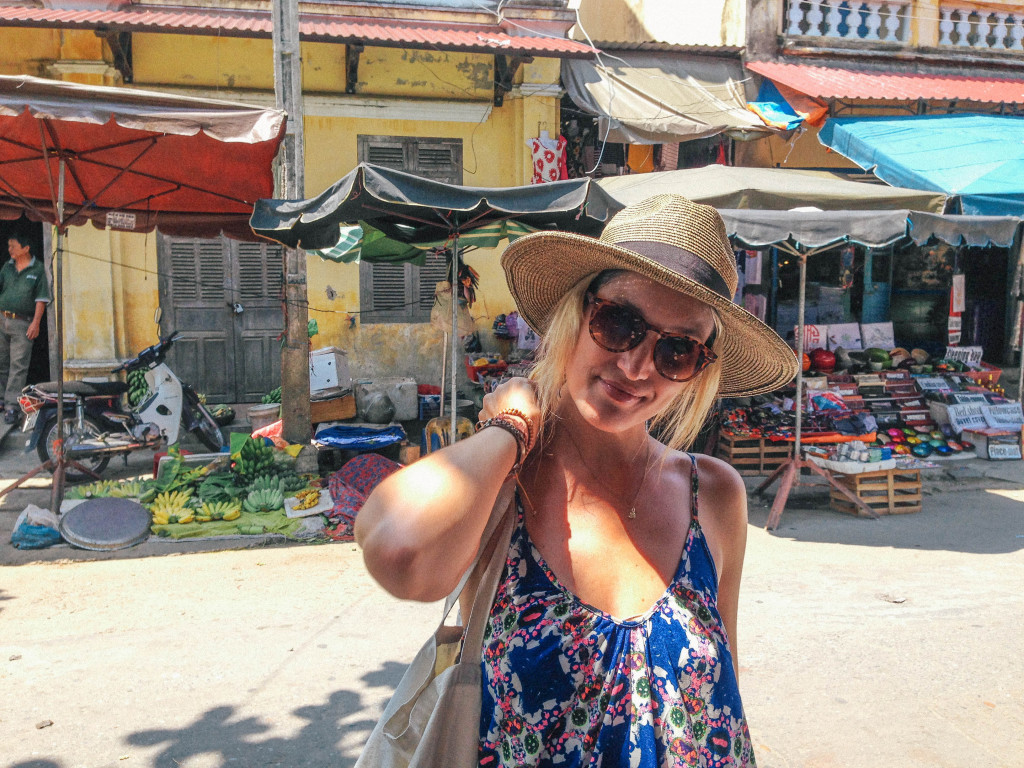 i've got my tote bag and i was ready to shop!


clothes galore! for like $1 – $5. makes you realize how cheap it can be to make clothes. and how much of a markup we pay.

all made in shops that look like this. pretty nuts to see this as you're walking to dinner – everywhere.


bags of new purchases and off to the post office.

$90 USD later, we've got one final box on its way to the USofA with lots of goodies & gifts.
—