As we were de-boarding our Halong Bay cruise, I struck up a conversation with a couple of Spaniards that had just come from Sa Pa (read more here) and highly recommended we call "Pen" for a private trek through the fields and Black Hmong village – so we did. And despite some communication difficulties via the phone, Danny coordinated a meet-up for the upcoming Sunday… Easter Sunday. (In all honesty, we probably wouldn't have realized it was Easter Sunday without our Instagram feeds being dominated by babies, eggs and mimosas).
At 9am we arrived in our hotel lobby and expected to be picked up by a tour guide. Well, we were, but it was a little more authentic than we were bargaining for. Waiting for us in The Sapa House Hotel lobby was a shy threesome of Hmong Tribe girls who said they were sent by Pen who was temporarily stuck in another town (more about the Hmong Tribe in this post). Alrighty, then. Just going with the flow we set off on foot with Mang, Meh and Mehn and our six-hour, 25 kilometer authentic adventure began.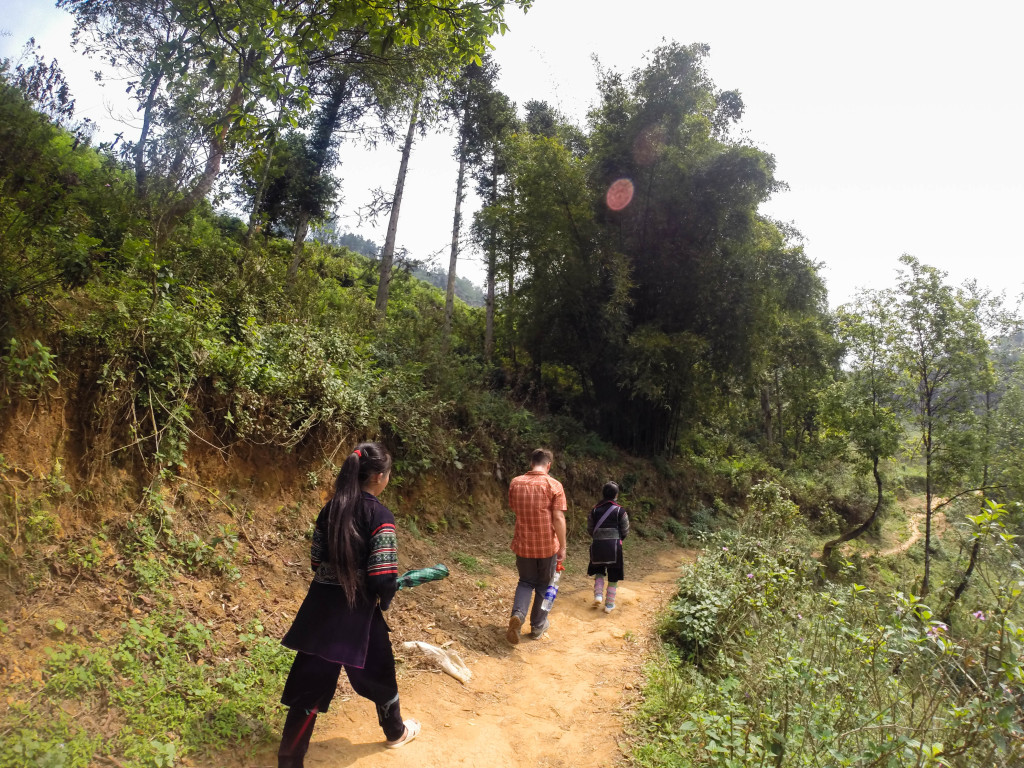 danny has been using the iPhones panoramic photo feature lately and we're digging it.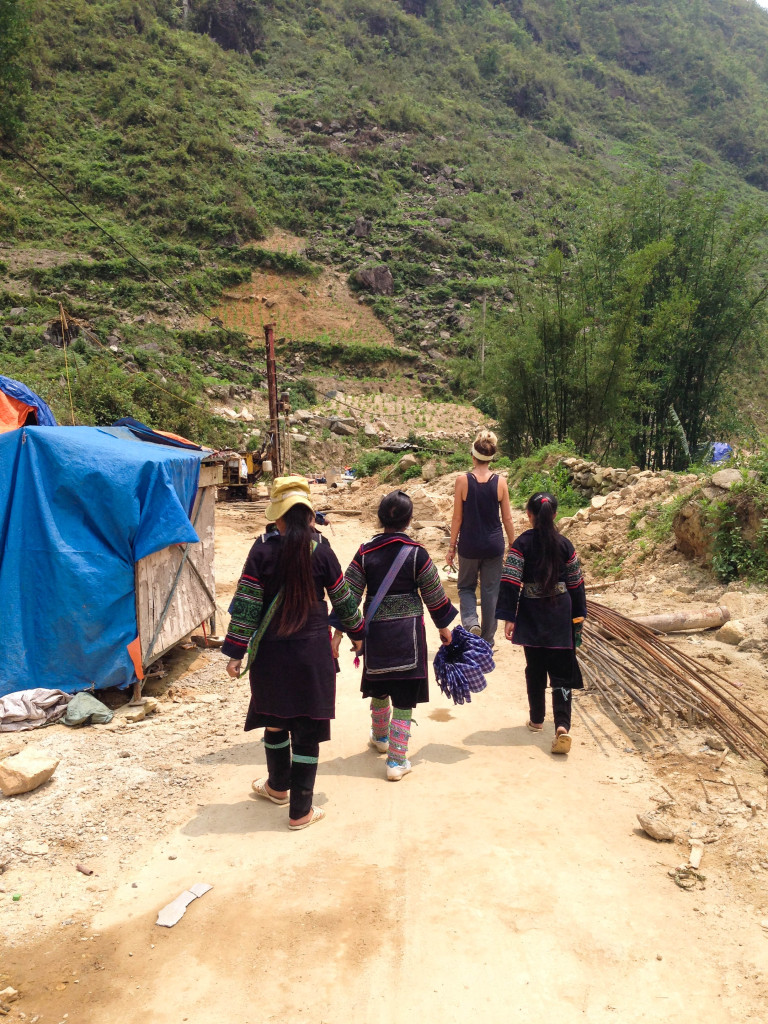 Everyone in the tribe is so tiny! i look like a giant compared to the girls – even the men. in fact, we saw some hmong tribe women innocently giggling when they saw an (extremely) overweight western man in Sa Pa town. they were all patting their bellies and said they'd never seen a buddha belly so big!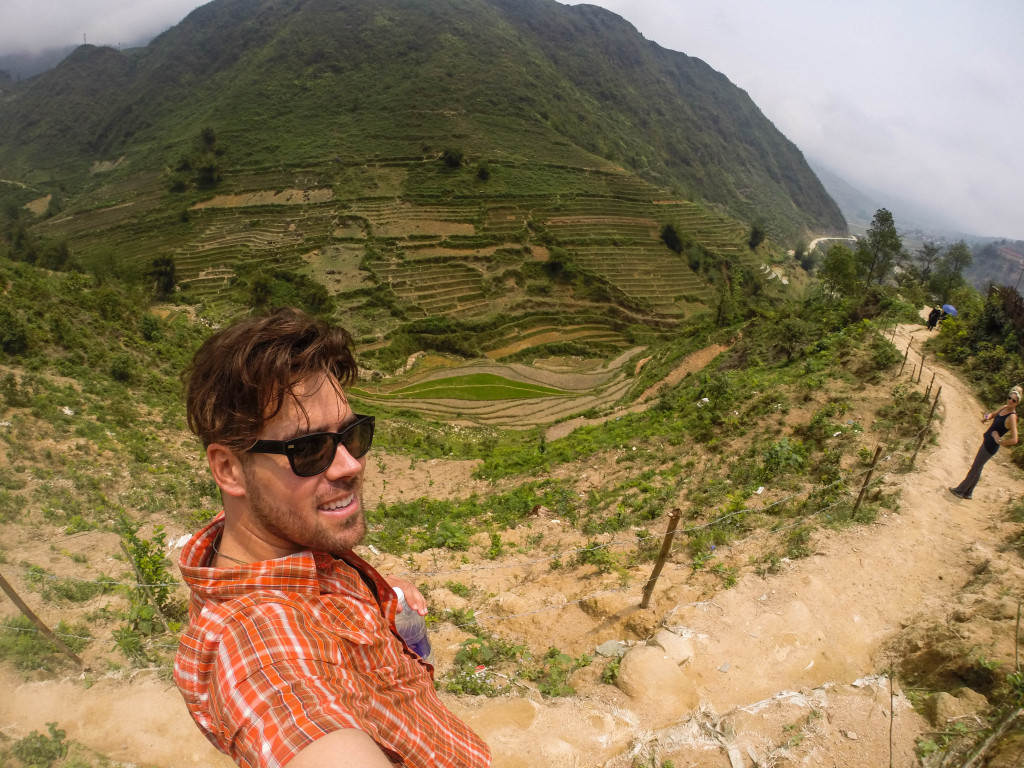 i couldn't believe how many hillsides were terraced for crops – it feels endless.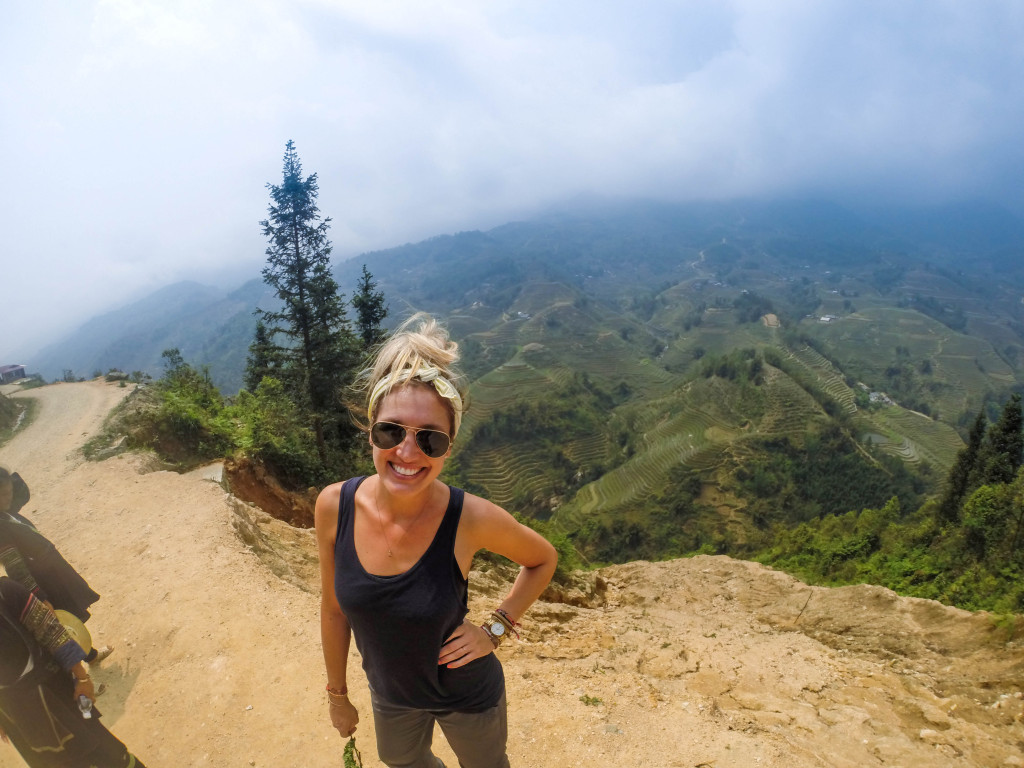 The day was wonderful. The girls were sweet as pie, funny and excited to share about their culture and in-turn learn about ours.
Mehn was pregnant so I congratulated her and asked her when she was due. You could tell this caught her off guard a little and she replied with, "in two or three months." Of course she don't have an exact due date – duh. She's 19 and was recently married (via arrangement). She's hoping for a girl.
Mang, who's 25, been married for 4 months and is 3 months preggo, was the most talkative of the bunch and explained arranged marriages between tribes is now okay. She told us about the roles of men and woman among the villages and how times are changing with family sizes (getting smaller).
Pen later joined the group and all the woman agreed that they have such easy births because of their work in the rice fields throughout pregnancy. Hospitals aren't used. All are natural home births in the squatting position and yes, the baby sometimes gets some dirt on his/her face when it plops down onto the floor upon arrival.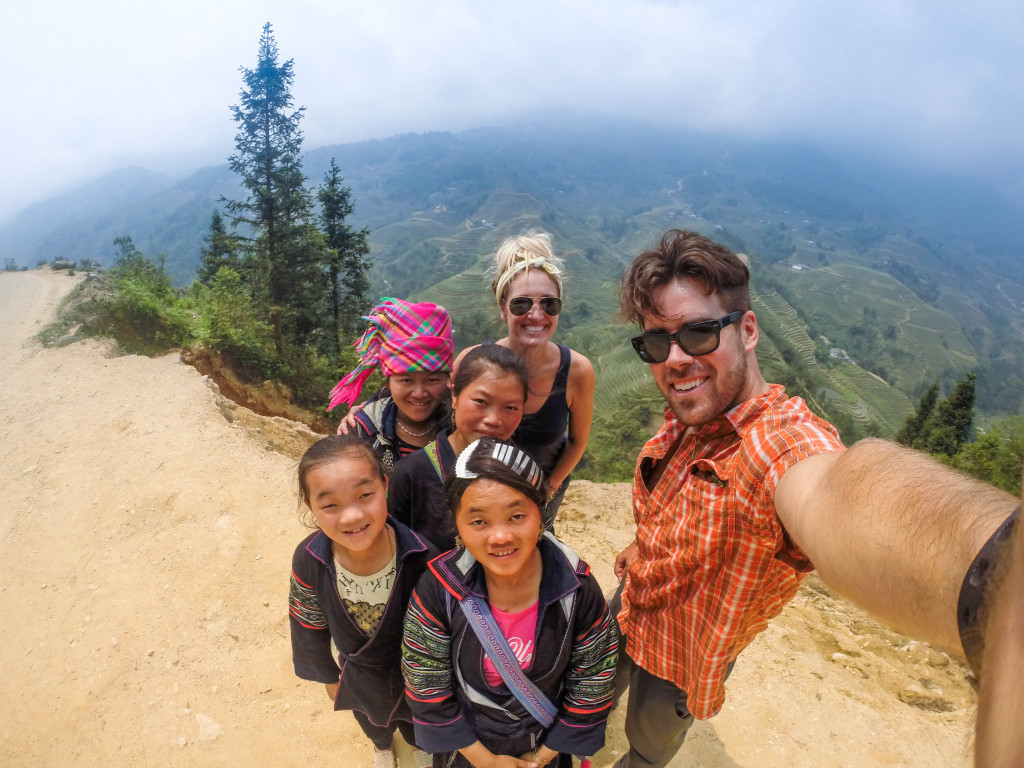 that's Pen with the head wrap. now the whole gang is here!


We also talked about the importance of families have both boys and girls – and therefore, baby sales take place. Have too many girls and need a boy? Welp, there's one for sale (and vice versa) at the market rate of about $200USD.
They all asked about, "our tribe" back at home. Do we all live together? Our families? How many childrens? (always plural).  What about school? Work? 

a group of kids playing a game with rocks & sticks. they were all hysterically laughing.

We've been around plenty of different minority tribes and ethnicities throughout the tribe. Sometimes, you wonder if a bit of it's for the tourists. And even as we walked miles and miles through the fields with these women, their way of life didn't become super real until we were invited into Pen's home for lunch. She said she was a little embarrassed by the small size of her home and had only invited two other couples, but would like to extend the invite. We happily accepted.

Her home was small… about 15' x 15' with really low ceilings. Pretty much four walls made of bamboo with hard-packed dirt floors and a small fire burning on the floor – the stove – with some bowls and pots stacked up next to it. Her two children shared a "twin bed" in the corner with a sack of rice as pillows, while Pen and her husband had a wooden bed and blankets opposite the kids. The dining table was only inches off the ground with corresponding tiny stools.
While Pen made us lunch, Mang proudly asked if we wanted to see her house since it had a fan and Pen's house would get very warm while cooking lunch (open flame in the house without a chimney or windows = hot).
We sat in Mang's similar home and watched random animals come in to sniff around, wondered how long the spiderwebs would be there and learned about the importance of the attic for dry food storage. Bags and bags of rice and other veggies kept up high to avoid getting wet and moldy.
We returned to Pen's home for lunch: noodle soup with egg, cabbage, carrots and rice. A splurge for people who typically just eat rice, cabbage and eggs three meals a day (meats and noodles are an expensive luxury). As we were chowing down on our soup, we asked what types of seasoning she used to make such a tasty flavor. In the most matter of fact way, Pen replied with, "MSG" – and that's about when we were done with our soup.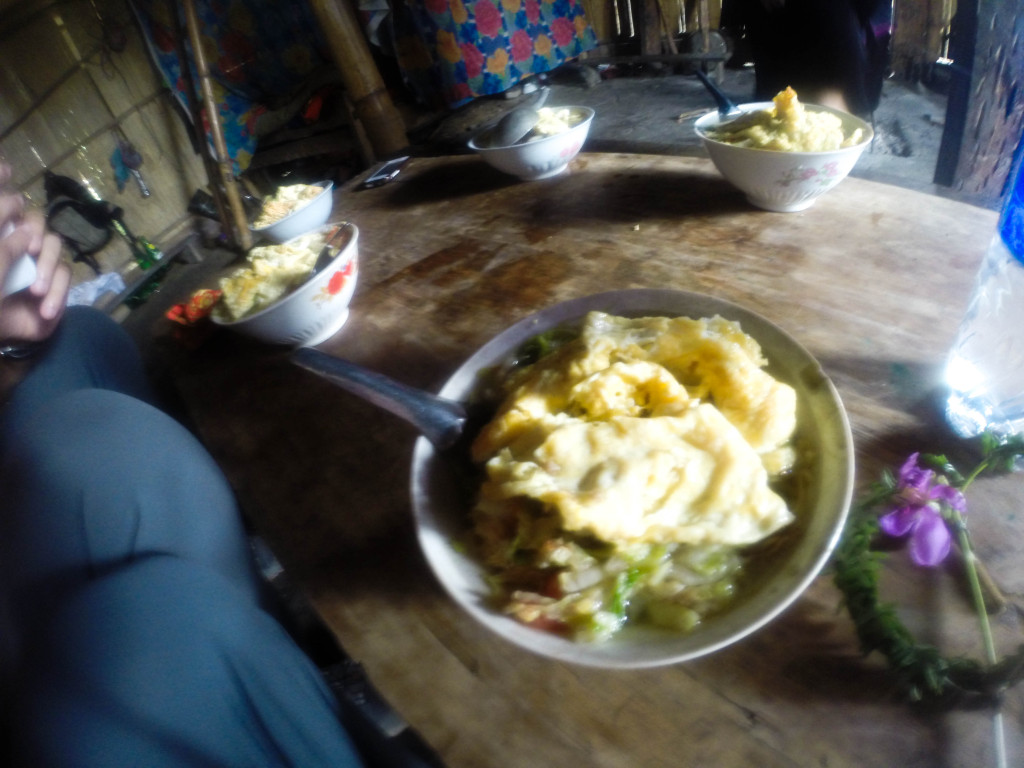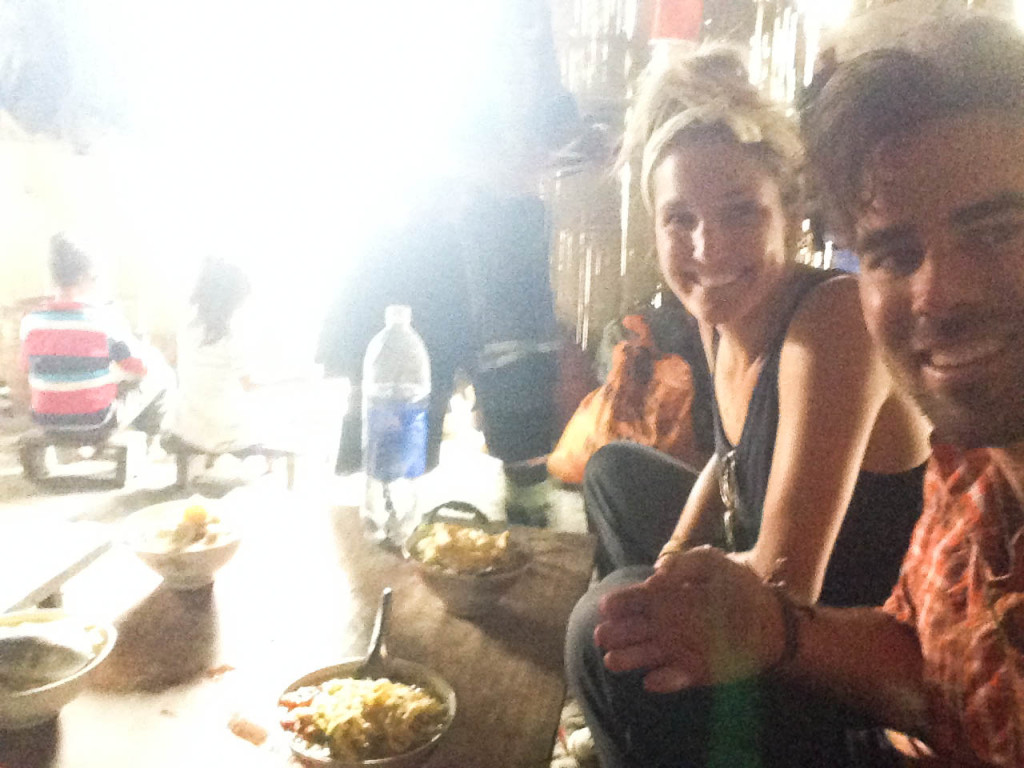 After watermelon for dessert, we headed back out for the rest of our trek before a motorbike ride for the long 20+ kilometers back up the hill into Sa Pa town. Pen saw us off and waved goodbye before she headed back into the rice fields for work.


Throughout the day we learned a lot about the Hmong Village way of life. We saw the cumbersome and intense process of cloth being made from hemp and then dyed using natural indigo. We saw little ones caring for other little ones. We were once again reminded of how basic life really could be…. and equally reminded of just how fortunate we are to have the resources and lives we have.

if you're looking for an authentic private trek in Sapa, contact Pen.
pensapa2006@yahoo.com // +841652251840