We spent our last three Bali nights in the jungle town of Ubud made famous by Eat, Pray, Love. Overwhelmed by hotel options, we again turned to Airbnb to find a more quaint, Indonesian experience in a rice field. What we landed on was Gusede House & Villa and upon arrival were upgraded to a two-story private pool villa. Score.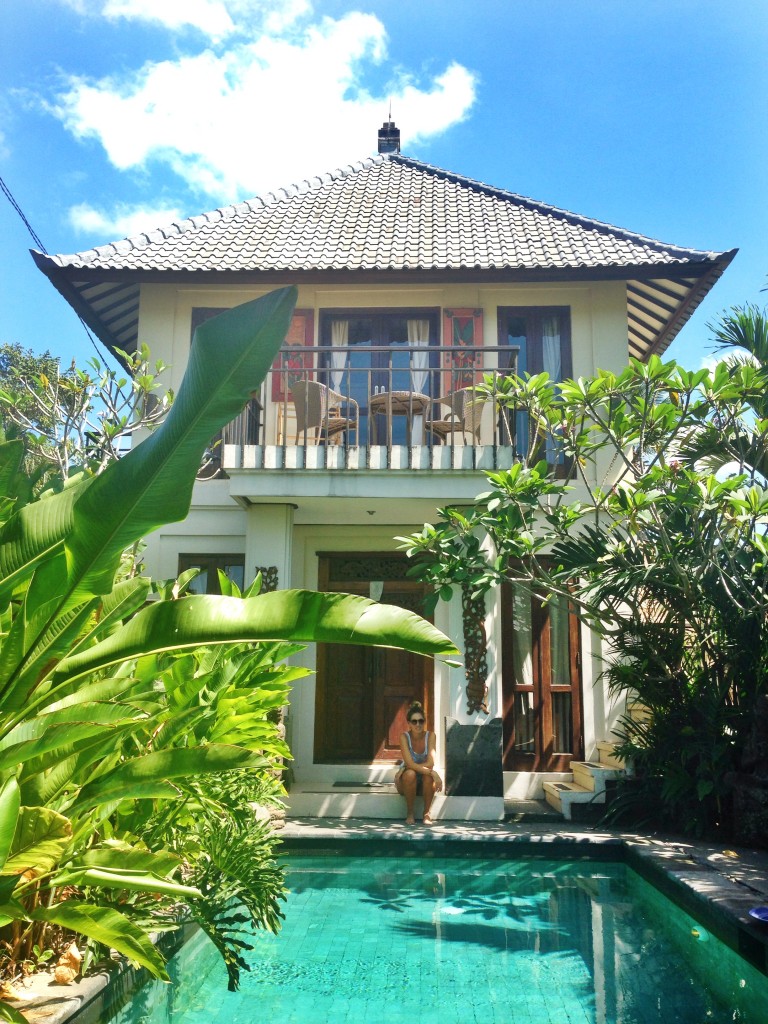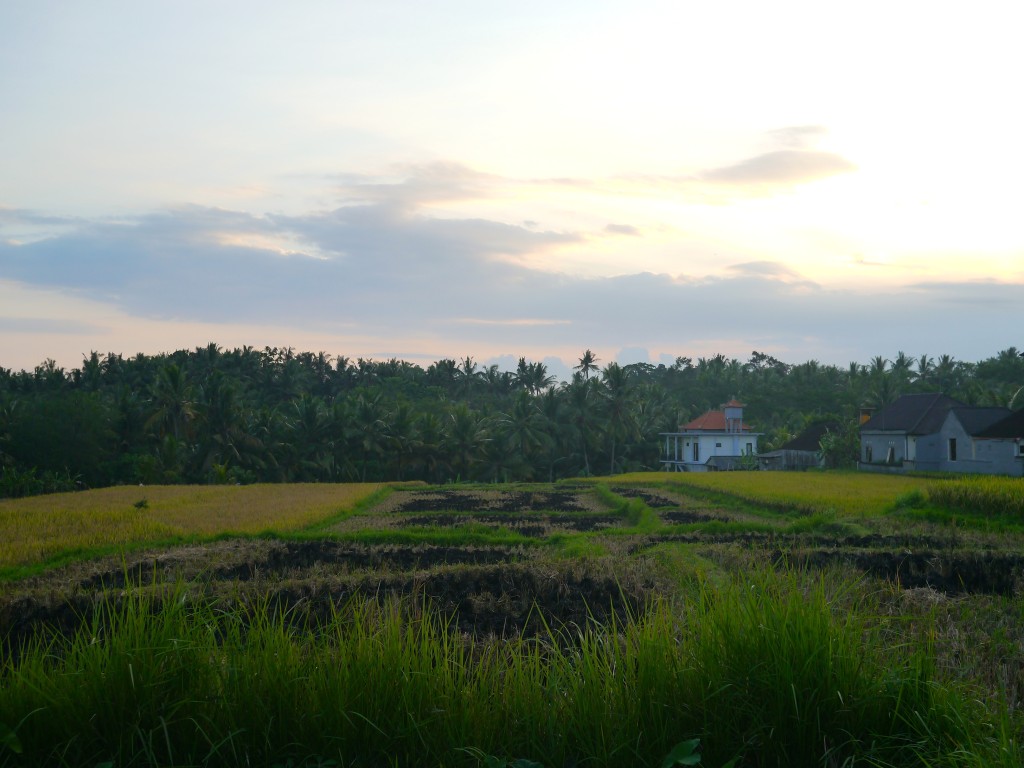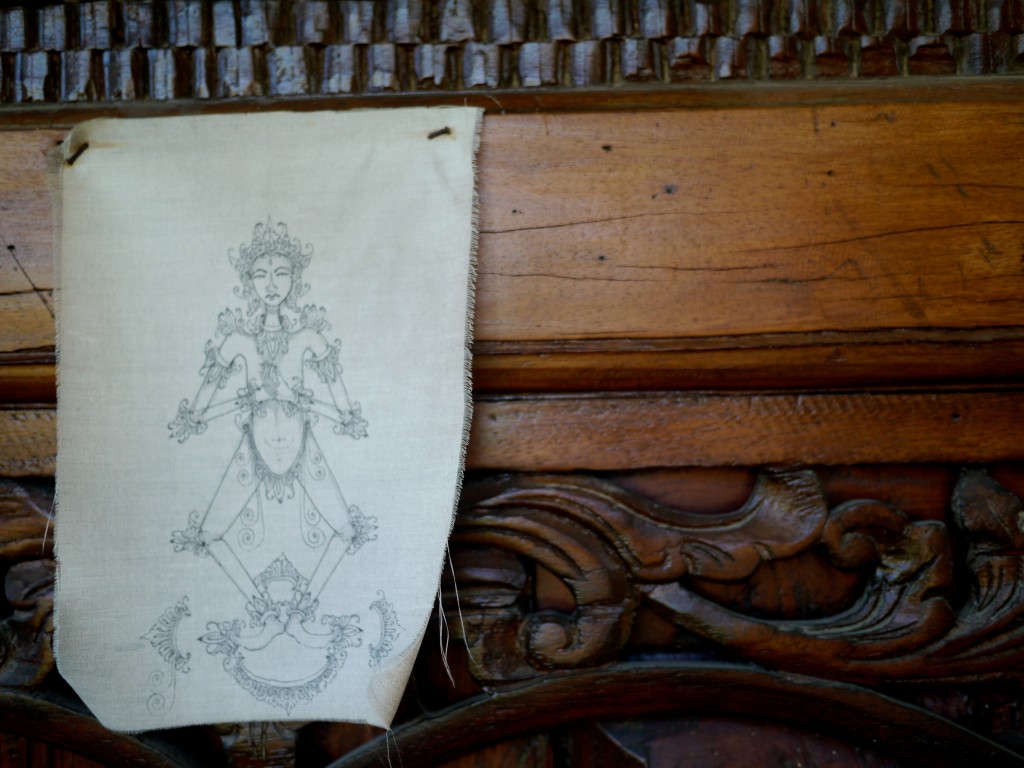 traditional hand drawn picture above the doorway for blessingsan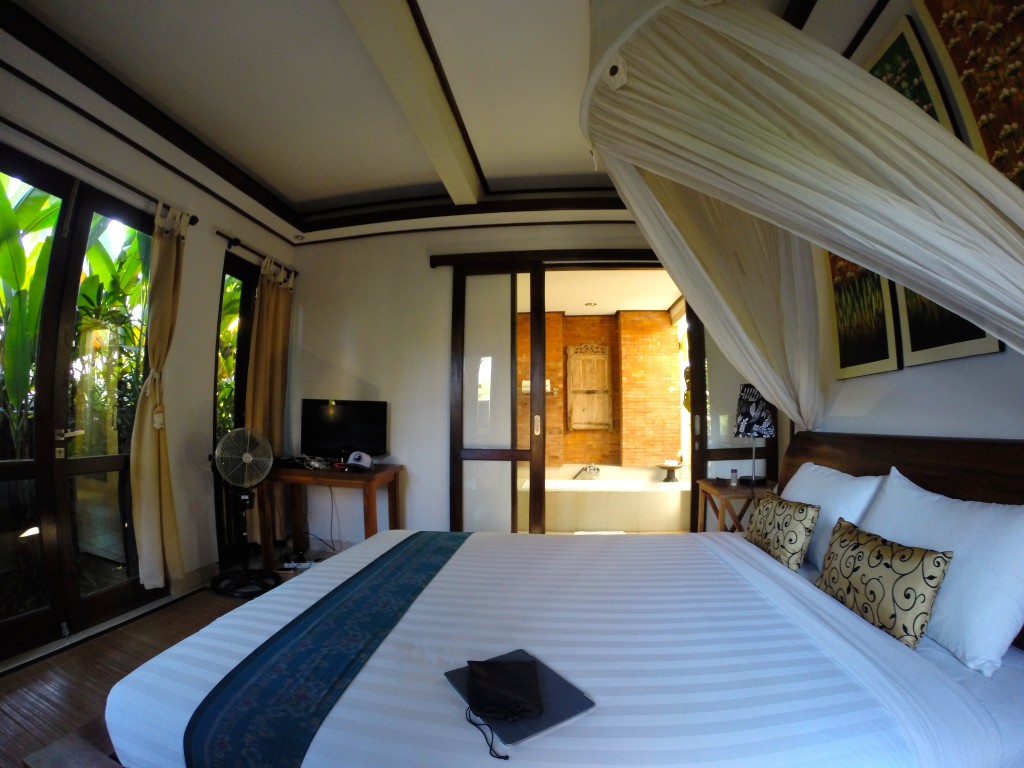 As mentioned here, there are plenty of Ubud attractions. Despite having the best intentions to explore and do yoga each morning, we pretty much relaxed, swam, read, wandered the shop-lined streets to see if anything caught our eye (I scored two gorgeous Indonesian embroidered pieces: a top and dress). Here's a glimpse at our time in Ubud.
indonesian food
arriving in bali, you immediately notice that "warungs" are everywhere. Warung This, Warung That. Warung means cafe or casual local place to eat. we ate at a lot of warungs. there's also padang which is an indonesian style of street food that's displayed in glass cases and eaten tapas style. while in bali we ate mostly local fare: lots of chicken satay (peanut sauce) + steamed rice, grilled chicken & rice with sambal (danny's favorite spicy mix), nasi goreng (indonesian fried rice) and tried some other deliciousness like steamed duck and babi gluing (suckling pig).
tasty ubud restaurants including Naughy Nuris Warung, Pestos and Taco Casa.

 

market shopping
ubud has no shortage of shopping. it ranges from high end to local market handicrafts and everything in between. some of the goods that bali prides themselves include detailed silver jewelry and intricate wood carvings and statues. how not shocking is it that the shop below caught my attention? white, lace & embroidery… "d! pull the motorbike over!" #ibreakforlace


countryside & culture 

We spent late afternoons exploring the rice fields, jungles and countryside of Ubud including the Campuhan Ridge Walk which is nothing strenuous, but there's lots of pretty scenery to be had. Ubud was the biggest dose of Indonesian culture we got in Bali. Still touristy, but there's a strong presence of temples, statues wrapped in black and white cloths (symbolizing the balance of good/evil) and piles of daily offerings at every single home and shop entrance. Each offering is a little different but there's always a banana leaf basket, flowers and burning incense. Occasionally there will be some candy or a cigarette for a late loved one. If you're not careful, it's easy to step on the offerings – they're seriously everywhere and lots of times in the middle of the sidewalk.
One night we were invited to the home of a local Balinese family for tea. Danny had been chatting with Gusede about the new villa he was building and asking all kinds of questions from one real estate guy to another: plans, permits and building procedures. When Danny asked about any height ordinances, Gusede replied (in all seriousness) that there are rules: you can't built your structure higher than the tallest coconut tree that's immediately adjacent to the property. Perfection. 
Gusede really wanted us to see his home – a traditional multi-generational Balinese compound. All open-air and featuring four buildings on the property at North, South, East and West and all belonging to the family for generations. "To sell your home, is to sell your history and your foundation," Gusede told us. The first son in his family, he'll live on that property from birth to death – rotating through the structures just as his father has done before him. There are birds for "clocks" who sing early and in the evening. And the height and width of the doorway are based on the height of the man of the house and his foot size – 3.5 lengths. It's fun to learn these things and then notice along the way.


in the middle of rice fields that are ripe and ready for harvesting.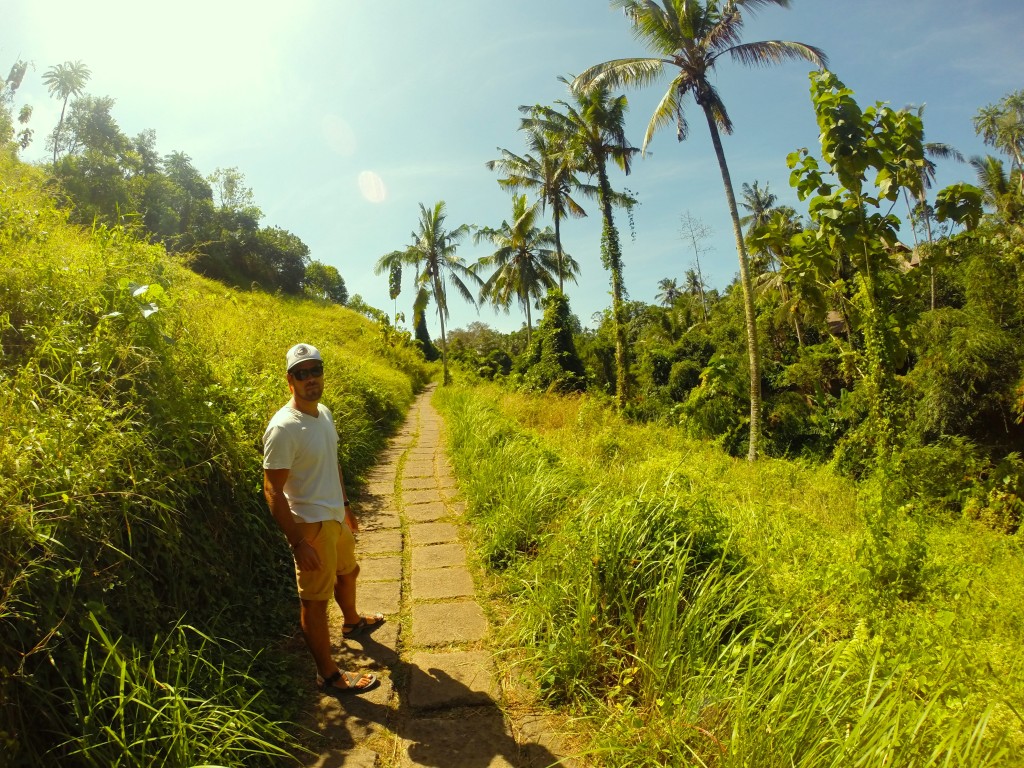 outdoor pampering  
we found Sari Heath Spa, which is locally run and only uses all-natural, Indonesia made products. the open-air spa is about a 10-minute walk through a legit rice field (you're convinced you're lost until you arrive) and such a unique experience. the natural setting is soothing, quiet and the therapists couldn't have been more awesome. it was neat to see so many flowers, limes, lemons and rice being used in lieu of chemical based spa products.
drink poop coffee 
It's what you do in Ubud. At the BAS Bali Coffee Plantation, you get 20 (yes, twenty) free tastings: 10 coffee & 10 tea and then you pay $5 to try the world-famous coffee created from the Luwak cat pooping out the coffee beans. go figure. It's actually pretty damn tasty.
Something that was driving us crazy in Bali was that we were constantly ordering "Bali Speciality Coffee" and getting instant coffee that was as thick as mud. Assuming our hotel was being cheap, we finally asked a Balinese local about their coffee being instant. Proudly, yup! Our finest coffee is instant. "Us locals don't like coffee that doesn't get stuck in your teeth when you drink – too thin is no good." Well, alright. Enjoy your sludge.

here's a video of danny's first sniff and sip of the luwak coffee.