Vietnam is expansive and there's plenty to do and see no matter what you're into: big cities, beaches, national parks, caves, history and mountains. This is exactly why most people devote an entire month for exploring Vietnam. For a variety of reasons, skipped a handful of the popular stops and it still took us 3+ weeks to make our way from the south to the north following this route.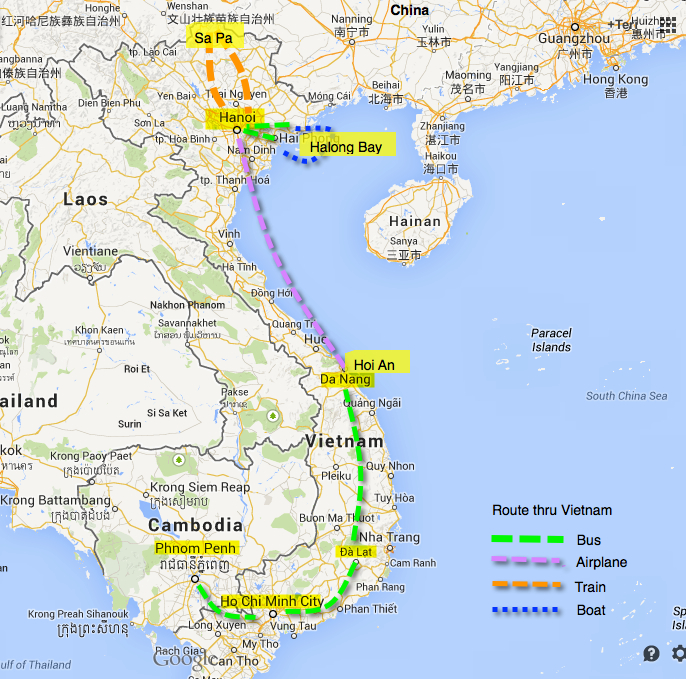 There are so many ways to get around in Vietnam and you really don't need to plan in advance. Just start either at the north or the south start making your way in the opposite direction booking last minute options – you'll be totally fine. As you can see, we used a variety of transportation methods to make our way from Ho Chi Minh City to Sa Pa. What we really wanted to do was buy a motorbike and ride through the country (very popular in Vietnam), but given the terrible rain & thunderstorms we were having in the south, we made the decision to forego this – next time!
If you're planning a trip to Vietnam, here are places that didn't make our itinerary, but are worth checking into:
: Mekong Delta
: Phu Quoc – southern island with the best beaches, by far
: Mui Ne – sand dunes on the beaches (we've heard this isn't really great)
: Nha Trang – word on the traveler circuit is that the beaches aren't great and it's basically a Russian dominated tourist town
: Hue – the country's old capital, a couple of historic sights to see. Not far from Hue is the world's biggest cave. But, unless you do an organized (and expensive) multi-day tour, your cave exploration is extremely limited.
For more details & itinerary recs, check out a few handy Rough Guide route suggestions here.