unpacking this week, i stumbled upon a bunch of friendship bracelets shoved in the bottom of a bag. it made me laugh when i recalled how they ended up in my possession.
—
She was a little Cambodian thing with PJs on that wandered into the bar to sell her woven bracelets on a school night. She spotted our deck of cards on the table and pulled up a chair with me (Danny was off chatting with someone). She plopped down her plastic basket of hawker goodies on the table and we started to play her games. She won. And then I did.
About 30 minutes later, she spotted my iPhone and hopped onto my lap and found the, "What does the fox say" video and serenaded me with every single word. It was hilarious. Then she cruised over to Danny's booth to sing him a Katy Perry song. She said it's how she's improving her English. We talked about the importance of her learning English so I both praised and corrected her. (In developing countries where tourism is the #1 for the economy, it's a critical skill for survival and success.)
When it was time for her to go, she challenged me to a game of roshambo (rock-paper-scissors). Best of three. She laid down the rules: If I win, she'll give me a bracelet for free. If she wins, I buy three.
I'm the proud owner of five additional Cambodian friendship bracelets.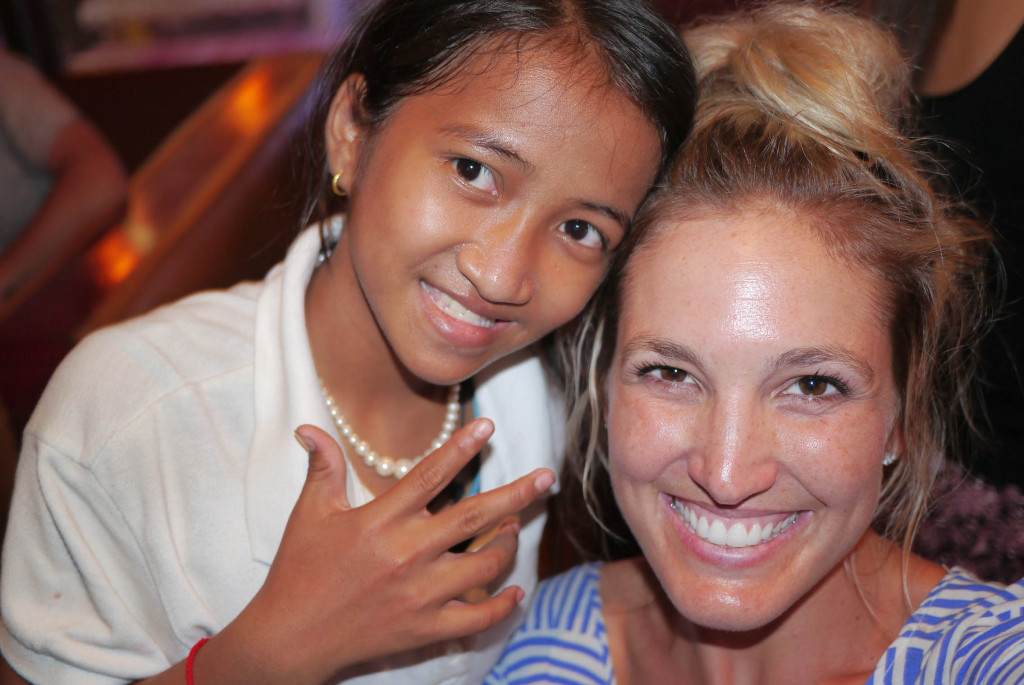 she was super excited about taking photos and wanted to study each and every one of herself.

during a typical vacation, it may be tempting to simply shoo a hawker away. but after a while, life in asia began to feel so normal that having a little cambodian hawker sit on my lap and play with my iPhone felt like just another night in our traveling life.
here's a little video snippet.
https://www.youtube.com/watch?v=UvhznlDEyP4&feature=youtu.be