trader joe's is kinda cultish. and if you're like us, there's no where else you'd rather shop. in fact, wandering around trader joe's was something i genuinely missed while we were in asia. i love the vibe, the guilt-freeish items, the friendly staff and the price point.
during our sunday TJs trip, we bumped into our friend erinn and started checking out each other's carts. "you haven't tried these yet?! omg! get this!" it was fun to swap favorites which gave me the idea to do a series on our favorite stuff from trader joe's. we'll start with snacks, my favorite meal.
• SALTY SNACKS •
trader joe's mediterranean hummus
+ trader joe's multigrain sesame seed pita chips 
fave hummus of all time. and we totally fight over the good stuff on top. i'm pretty sure we've tried all of the different pita chip varieties, and this one is our favorite. and if you're healthier than we are, it's great for veggie dipping.
trader joe's curried white chicken deli salad
an indian style curry chicken salad that's so tasty alone, with pita chips or wrapped in pita bread, like the middle eastern flatbread. you really can't go wrong. it's also a great appetizer to throw in a bowl and compliment a party cheese board.
trader joe's wasabi wow! snack mix
the perfect blend of sweet, salty and sour to keep around the office or for a late night snack. almonds, wasabi peas, dried cranberries and peanuts. be careful, it's addicting.
trader joe's reduced guilt chunky guacamole
+ longboard organic tortilla chips 
made with greek yogurt, this guacamole is crazy delicious & waaaaay less sinful than its fatty older brother. plus, it's such a bonus when you know how to say the name of every ingredient. this is a new one for us, and we're hooked. and the longboard chips are ideal for dipping.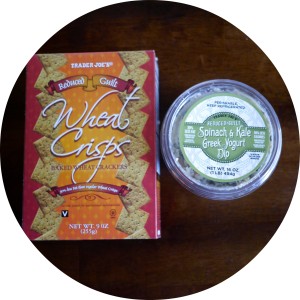 trader joe's reduced guilt kale & greek yogurt dip
+ reduced guilt wheat crisps
spinach artichoke dip + sourdough bread is the reason i go to holiday parties. at only 30 calories per serving, this yogurt version is delicious and versatile. it's great cold with wheat crisps, even tastier heated up and paired with anything you like – veggie sticks, chips or sourdough bread, and it's really good on top of baked potatoes.
trader joe's pineapple salsa
+ TJ's organic unsalted tortilla chips
danny's go-to snack is chips & salsa, meaning he eats this pretty much every single day. always watching his sodium intake, these chips are great for danny since they're no-salt but still delicious.
trader joe's organic popcorn with olive oil
another snack i like to keep around my work office for a 3pm fix, and also in the pantry for late night movie watching.
so there you have it. our favorite snacks from trader joes.
do you use anything listed above in a creative or unusual way?
i'd love love love to hear yours in the comment section.
i'm always looking for new tried & true things to discover.
coming up next in the trader joe's favorites series: breakfast.