haven't you heard yet? danny "developed a shellfish allergy" while in asia.
and according to mr. research, "it is very common for adults to develop this."
oh, you wanna know why the kid isn't keen on shellfish anymore? he was being the ultimate "when in rome" traveler and decided to follow some korean girls' lead and binge on shrimp shells.
it all happened while we were on a two-night boat ride in northern vietnam (here). for 48 hours, every meal included giant prawns. like seriously huge ass shrimps complete with shells. heads. feets. eyeballs. the whole pink prawn. at this point in our trip, i was pretty much over seafood so i was extra repulsed when i watched the korean girls eat the entire things. "oh yeah, we do that in korea – we don't let anything go to waste." so, my adventurous husband went for it — at least five times over. crunch crunch crunch… shells, heads, eyeballs. repeat.
later that night on the boat, danny said he wasn't feeling well. i wasn't surprised. but i also wasn't going to miss the boat karaoke, so i left my hypochondriac husband behind in our micro cabin while i cheered on some awesome vietnamese versions of celine dion. i'll spare you the details, but what i came back to that night was a little rough and the following days were worse. i was pretty sure he'd just scratched his throat to hell with the shells, but he insisted it was more.
fast forward to our flight from tokyo to vancouver —> we were on the plane enjoying cocktails and anchorman II when danny was served his sushi/bento box sampler platter appetizer (gotta love Japan Airlines). within minutes of snarfing a shrimp nigiri, his throat totally swelled up and he couldn't breathe – again. with our backpacks overhead, he dug out some benadryl and was better within a half hour. and that's when his lightbulb went off — shellfish allergy.
so here we are. it's months later and the only thing's that for certain is that our shared sushi choices are now very limited. he hasn't been professionally diagnosed and refuses to let me do a DIY allergy test at home (shrimp cocktail & crab cakes with a side of benadryl, anyone?). i find it incredibly annoying. he finds me totally insensitive. but really, try to go out to seafood and eliminate anything that includes crab, shrimp, lobster or oysters. good luck. smell ya later, shrimp tempura rolls. it was nice knowing ya. xo, my tastebuds.
mr. shellfish allergy at harumi sushi, a new spot in downtown phoenix we found on yelp.
i was craving raw fish last saturday night and we decided to give this place a try. we walked in and were hooked. the staff started welcoming us in japanese & the energy was great. nothing fancy or first-date trendy, but sweet staff, delicious sushi and the 90's pandora station pumping.

the environment and staff had us reminiscing about japan – and asia in general – our entire meal.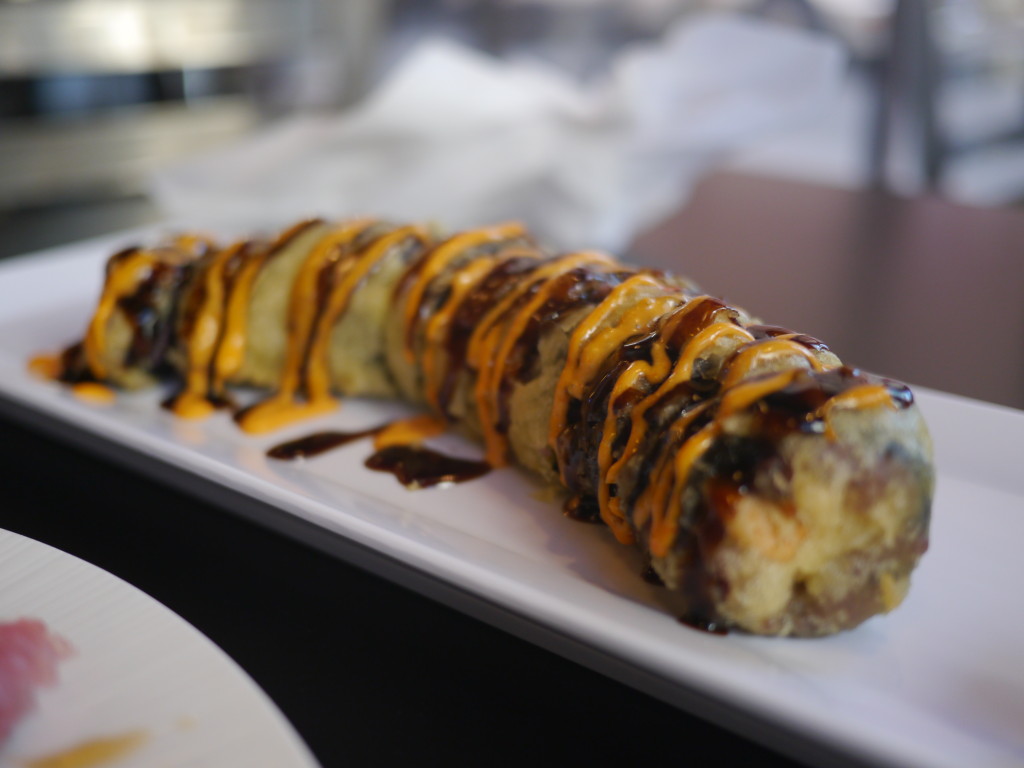 the rolls were really big! we totally over ordered, but it was fun to try lots of different stuff.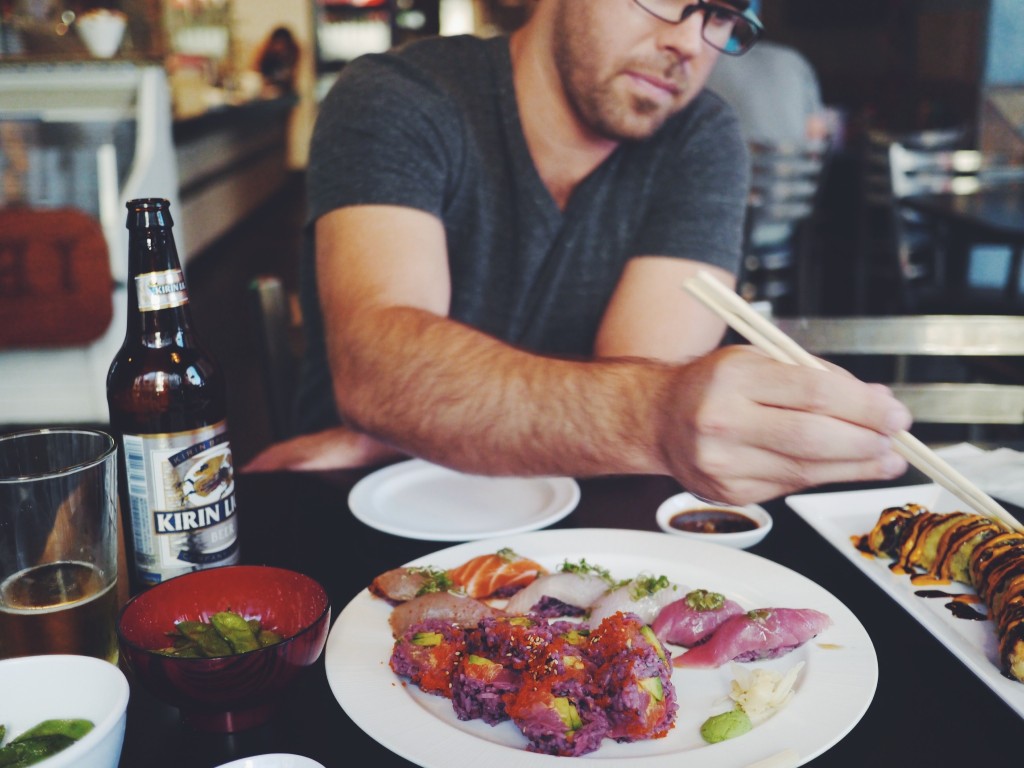 harumi sushi only uses black rice (looks purple) which is much better for you than white rice.

the $15 chef's nigiri platter was a steal — 5 pieces of nigiri + an 8-piece roll!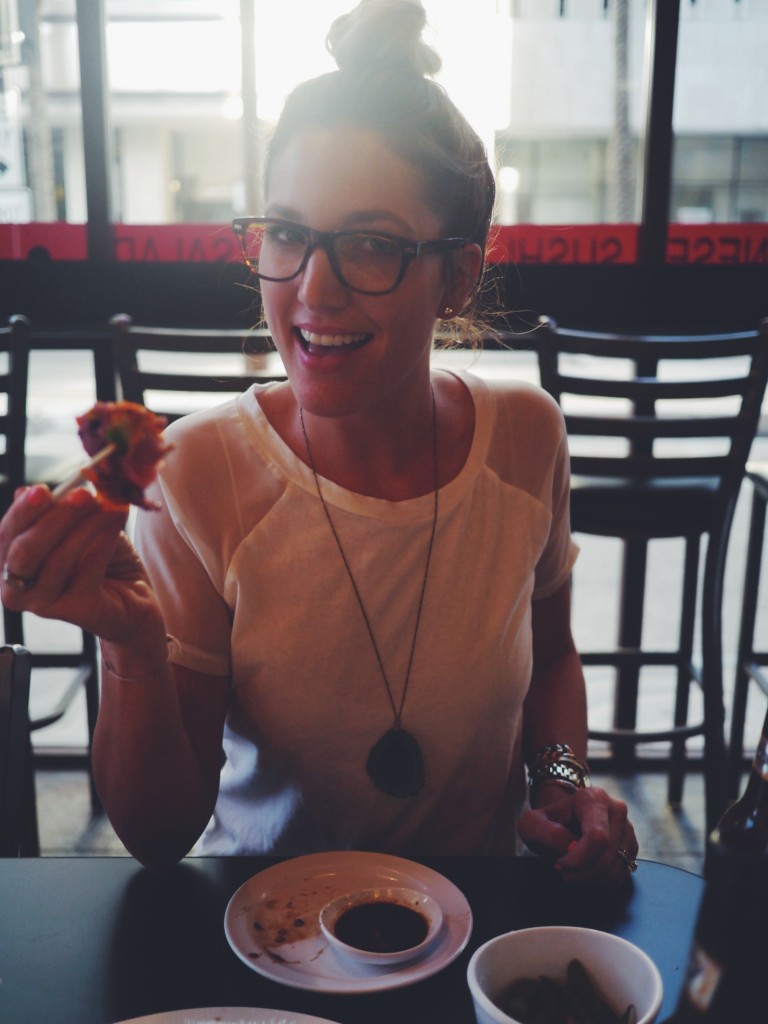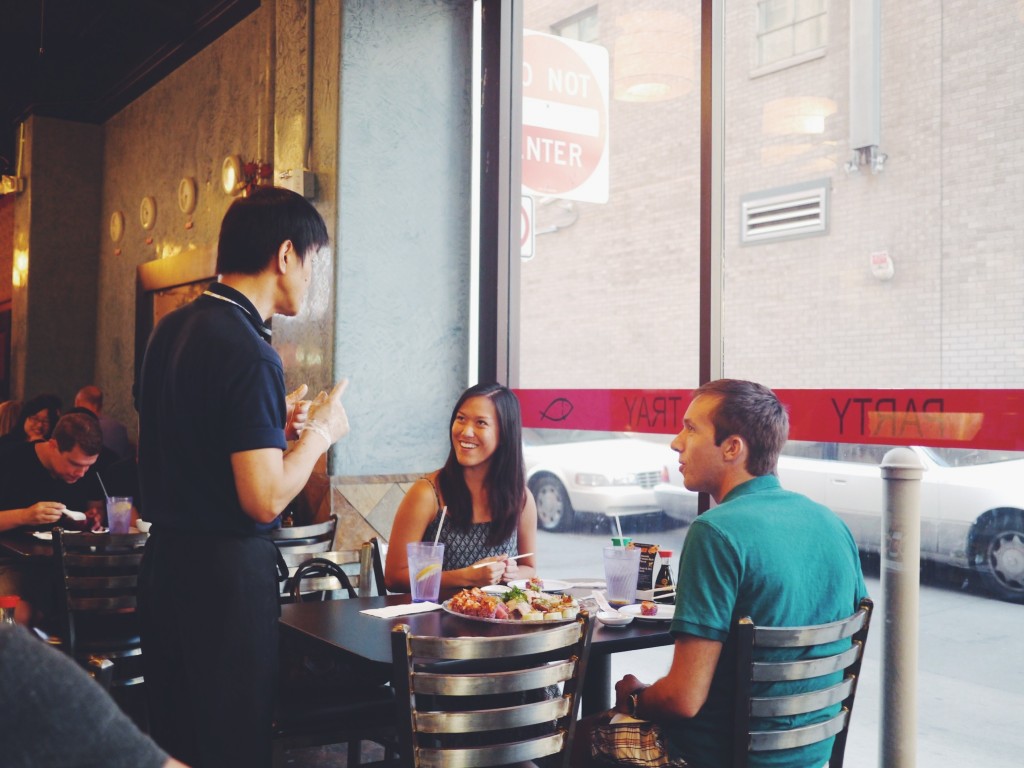 the chef was busy behind the counter & personally greeting each table. he's from osaka!

apparently they have great lunch specials, including "grab & go" bento boxes and sushi platters.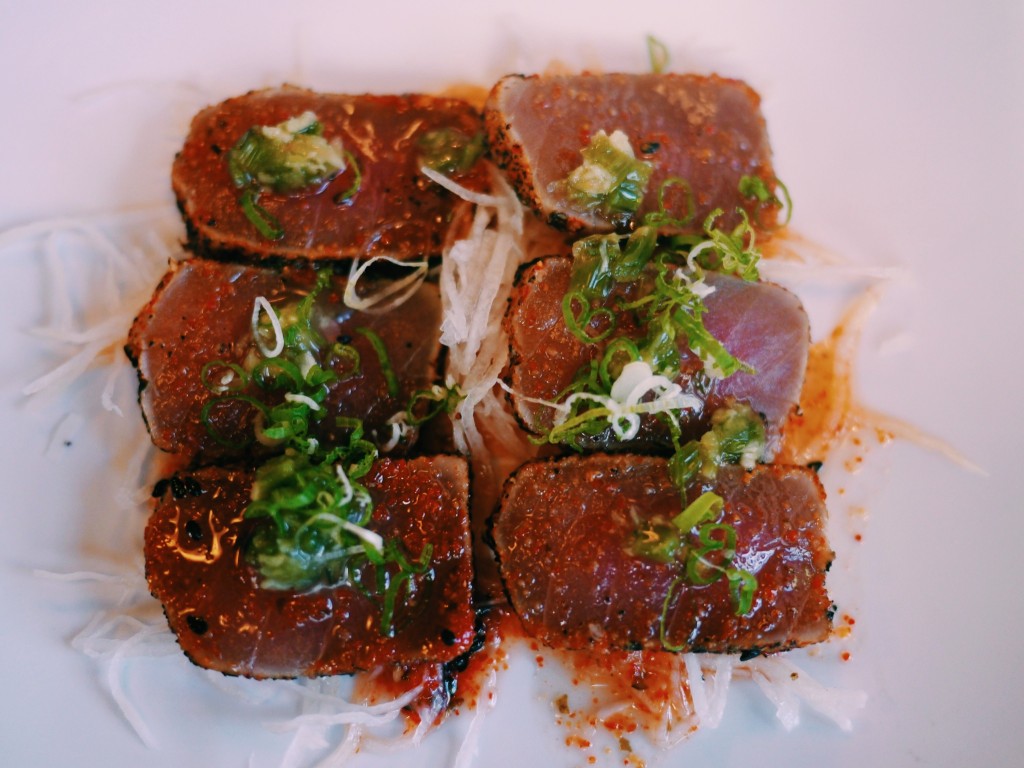 i believe this was called the H3 roll and it was our favorite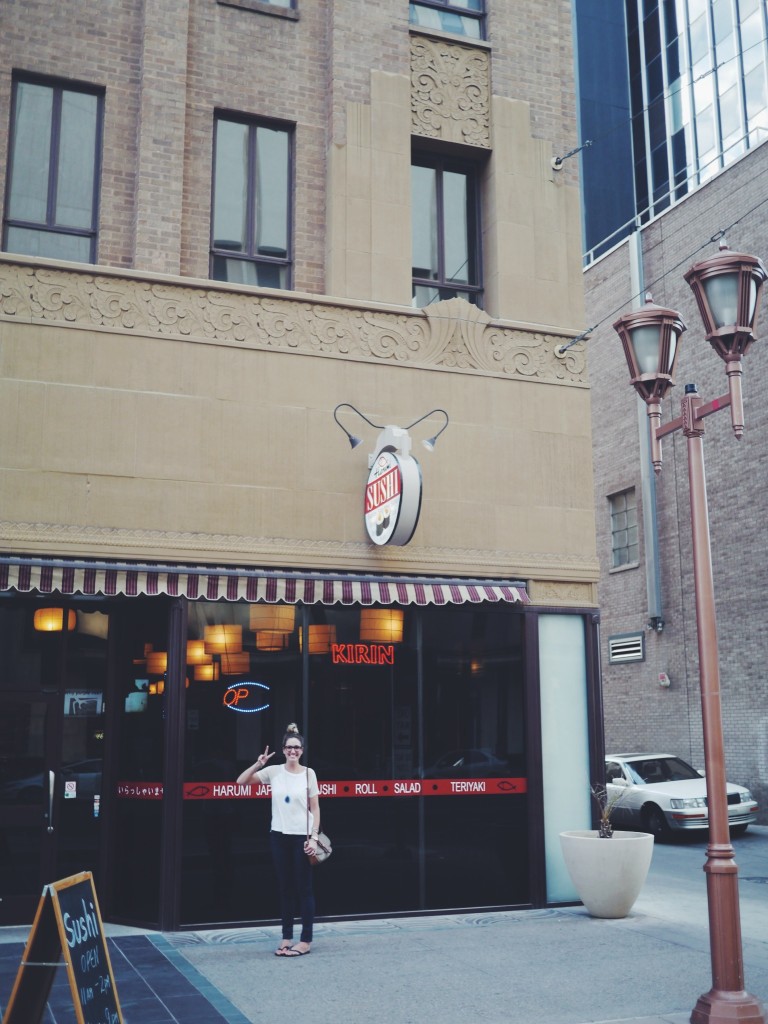 a local downtown phoenix gem that should be on your radar if its not already
HARUMI SUSHI
1ST AVENUE & ADAMS
DOWNTOWN PHOENIX
reviews & details here