i've never been much into yoga. but if i'm being honest, i never really tried. i guess i felt that if i was going to spend an hour exercising, i wanted it to be "worth it" – you know, really heart pumping cardio. i wanted to feel the burn. but at the same time, i always envied the lifestyle, mindset (and bodies) of yogis.
this past year was challenging. i was faced with health issues and i found myself more in my own head than ever before. more sleepless nights than i can count. i had a profound realization that without a sound mind and able body, you can't enjoy and explore this planet of ours. i started to understand the value of a clear mind, as much as a fit body. i sought out meditation, craved exercise, started to learn about how to properly fuel my body, and was desperate to do anything that would help me naturally relax and sleep better. i became much more mindful of how i was treating my body, my vehicle for life.
so the goal for this trip was to slow down, recharge and focus on ourselves. to use this time to take our health and wellness to new levels. no excuses, right? you've got all day every day. and when we were doing our research on central america, we were led to nosara, which is the ultimate beach/yoga/surf culture town.
so our first day in nosara – it was on. time to focus. our hotel (The Living Hotel) offered daily yoga classes, so this was it. that first morning, danny and i were having breakfast and we met two canadian gals, Emilie and Jacinda, who days earlier had completed their month-long yoga teaching certification up in the mountains. i was telling them how i pledged to really give yoga a try, that i needed yoga and meditation in my life, but was intimidated by it. it's got such a cult-like culture – from the gaggles of lulu lemon girls to the extreme hippies, i wasn't sure where i'd fit in.
but they assured me that yoga is a very personal, lifelong practice. everyone has to start somewhere and i should never let anyone make me feel intimidated. go at my own pace, listen to my body and learn. okay, i was going to try. i promised myself i would.
and later that morning, sweet jacinda said, "hey, why don't i give you a private class this morning to teach you the basics so you feel more comfortable with poses, phrases and general flow?" "really?? wow! sure!" so we did. and i'll forever be grateful to her for it. it was the start of my journey.
                                                                                                                     (the wonderful jacinda)
after that session i felt energized. i felt calm. i felt strong. i felt strangely emotional. i couldn't wait for more.
that was one-week ago, so today marks my seventh day in a row of 90-minute yoga classes. every day at 10am i'm excited to be back on the mat. each class and instructor has been different. each wonderful in their own way. all helping me to stop, be present and be thankful. some days were more focused on meditation and breathing. others more physically challenging. tim did a private drum ceremony. one day we had colombian bark blown up our noses through a wooden pipe (crazy sensation). sometimes the music was really loud, other times we laid in silence. we walked like monks. we swayed and chanted the names of hindu gods. we did drinking meditation (with water). and all of my mis-conceptions shattered. each instructor has been patient and helped nudge me along, correct my form, give me mantras and remind me to pause and be thankful for life. to love and listen to my body.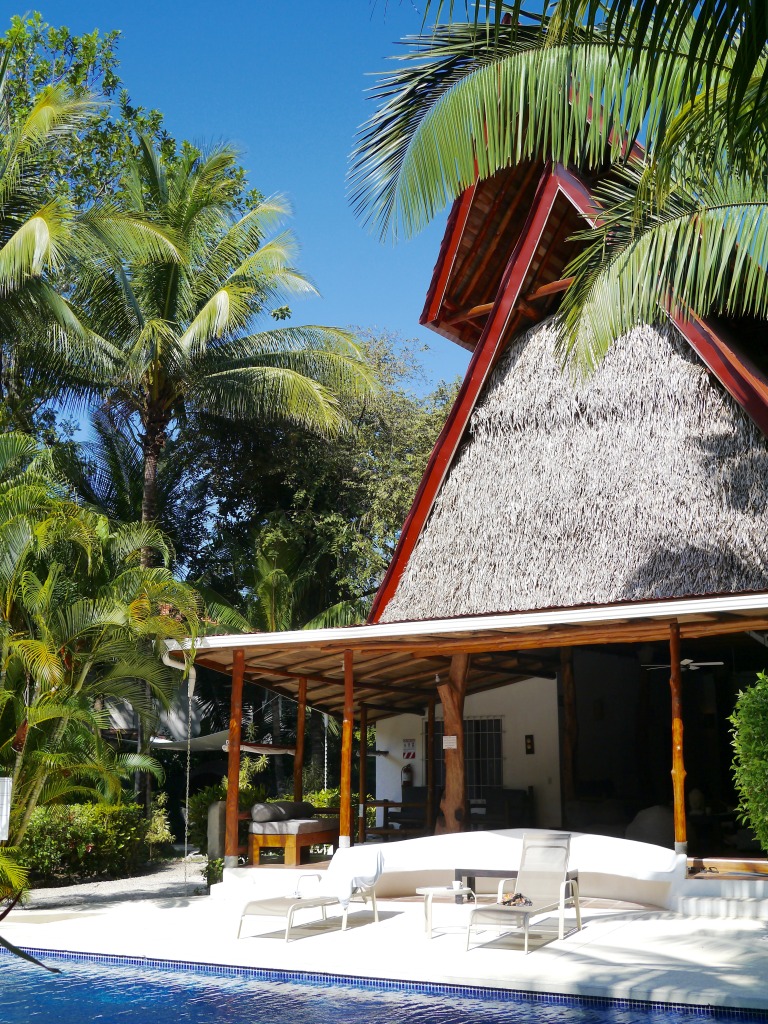 my studio for a week was upstairs in "the rancho"

                                                                                       all you need.

                                                           downstairs in the rancho for breakfast every morning.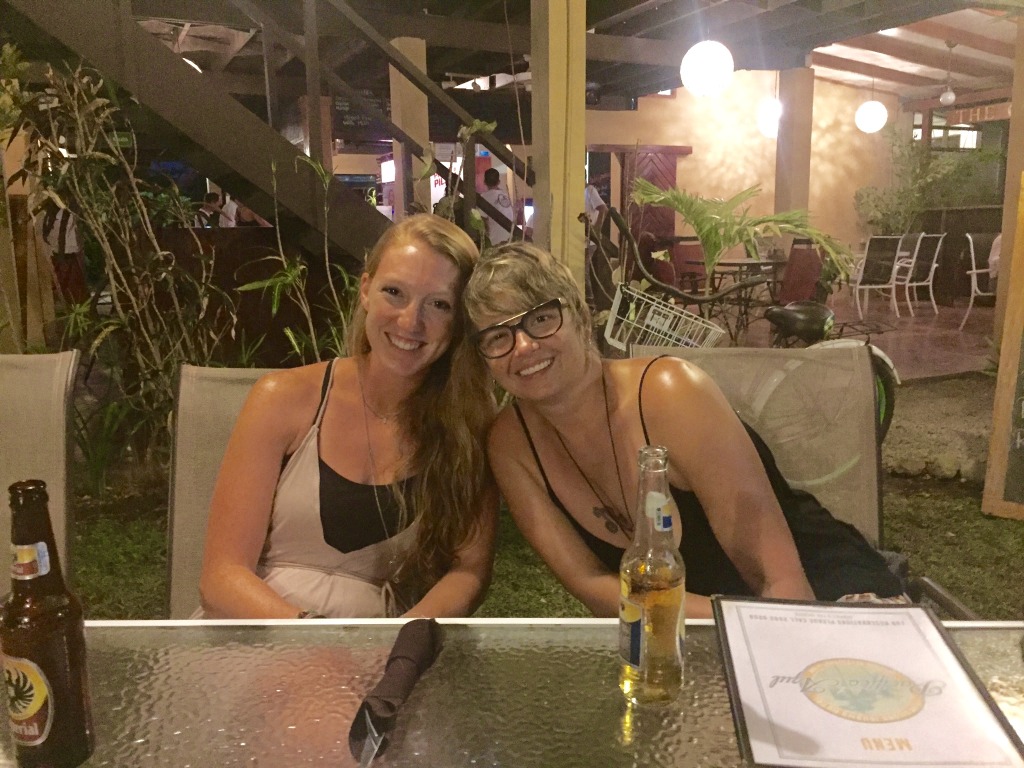 emilie and jacinda for a fun dinner at the Guilded Iguana one night. 

i'm hooked.
now i've gotta go – time to practice my crow pose ;)
travel tip f you're in Nosara:
The Harmony Hotel has a free yoga class every Saturday at 4pm and it's awesome.
the studio couldn't be more beautiful or tranquil.