it's always been danny's dream that during our travels that we find a place we really like and stay a while. settle in, get to know people and really get a feel for a life somewhere else.
i, on the other-hand, am cursed with the urge to keep exploring. "but there's more to see! there may be a better beach. a cooler city." it's not something i'm proud of and am continually working on the core of that — BE WHERE YOU ARE!
but i'm here to report all of danny's adventure dreams have come true! a few days after our arrival in nosara, costa rica, together we decided this was a place and lifestyle we could get used to and decided to unpack, get local and stay a while. we arrived on december 8 and we're currently booked through january 5. a full month in one place! 
you know when you're on vacation and dreading the end and don't want to go? that's how we felt. and since we had time, we decided to stay!
guess what? it's been awesome. 
i'm so glad that i followed danny's lead on this one. all the pressure to cram in as much as possible is gone. since we've committed to staying, we've been chilled out to the max, happier than ever and in a legit new(!) daily routine. exhale. it's been a nice change of pace from trying to research new travel plans every handful of days. this first half of the trip has definitely turned more into vacation verses backpacking adventure, but we're good with the twist.
and what's really drawn us to nosara is the community of people and the lifestyle they live. nosara is a dusty beach town built by sophisticated ex-pats (mostly american, european & canadian) and local "ticos" (what Costa Rican people are called). so it's got some of the comforts of home (like a handful of craft beers and some good restaurants), but remains authentico to the Costa Rican culture. so while there are a lot of westerners, it's not touristy, if that makes sense. they're western locals who've built this town alongside the Ticos because they share a common interest and lifestyle. if you're interested in more about why ex-pats love Nosara, check out this article.
so the community. well, from the day we pulled into town we started meeting locals and everyone has been awesome! seriously, the most friendly and welcoming group of peeps. it's a big part of what has kept us here. after just a few weeks, everywhere we go, we bump into people, have meals with new friends, connect in the sand, surf and at yoga classes, have friends playing live music gigs, and are consistently surrounded by positive vibes. it's seriously "pura vida" – the costa rican phrase for life.
from an outsider perspective, my assumption for why this community is so unique is because it doesn't offer much for traditional tourists. if you're just looking for a traditional tropical vacation, this isn't the spot for you. for example, there aren't amenities on the beach (they preserve their coastline for nature and surfing) so you won't find any traditional resorts or shopping, and to get anywhere you've got to brave the dusty, horrendous pot-hole roads via quads or 4×4. this community is 100% centered around a laid-back, active beach culture. the days are simply filled with yoga, pilates, SUP, surfing by day and slowing down the pace to enjoy good friends, food, lots of live music and sunset every single night. no joke, each day the entire community floods to the beach to watch the sunset.
more to come on life in nosara.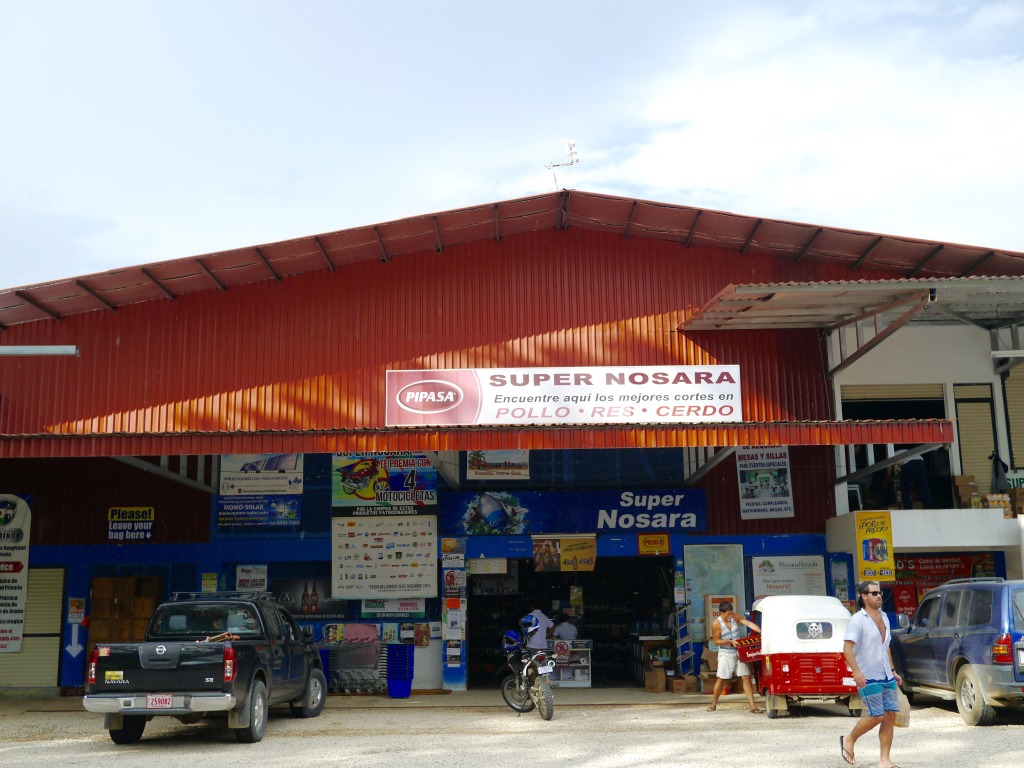 a girlfriend of mine said that you don't really know a place until you go grocery shopping. well steph, this one is for you. this is danny as the Super Nosara where we do regular grocery shopping.

we know our way around the aisles of the super nosara

the upstairs of the super nosara is random home goods and supplies. it's where i bought my precious, thin-stemmed wine glass because even cheap wine tastes better in a nice glass (traveling, you get very tired of drinking wine from a coffee cup).

we unpacked and moved into our bungalow! full fridge, a little closet and "grab & go" supply area.

"the pantry" my husband is a chips & salsa monster.